Moroccan Dinner: Royal Couscous with Apricots and Pistachios
Couscous is probably one of the best known parts of Moroccan cuisine in the US. When properly prepared, its wonderfully light and fluffy and great for soaking up rich sauces and stews. It is also a good base for all kinds of pasta salads, with pretty much any add-ins you can dream up. Here I'm adding a flavor-packed twist and calling it Royal Couscous.
In my opinion, couscous is an under-appreciated food. I mean, it takes less than 5 minutes to prepare, and is delicious in even its simplest form, with just butter and a bit of sea salt. In college it was my go-to dorm meal because you could make it without getting any dishes dirty. Boil water, pour over couscous, wait 5 minutes, and you're good to go.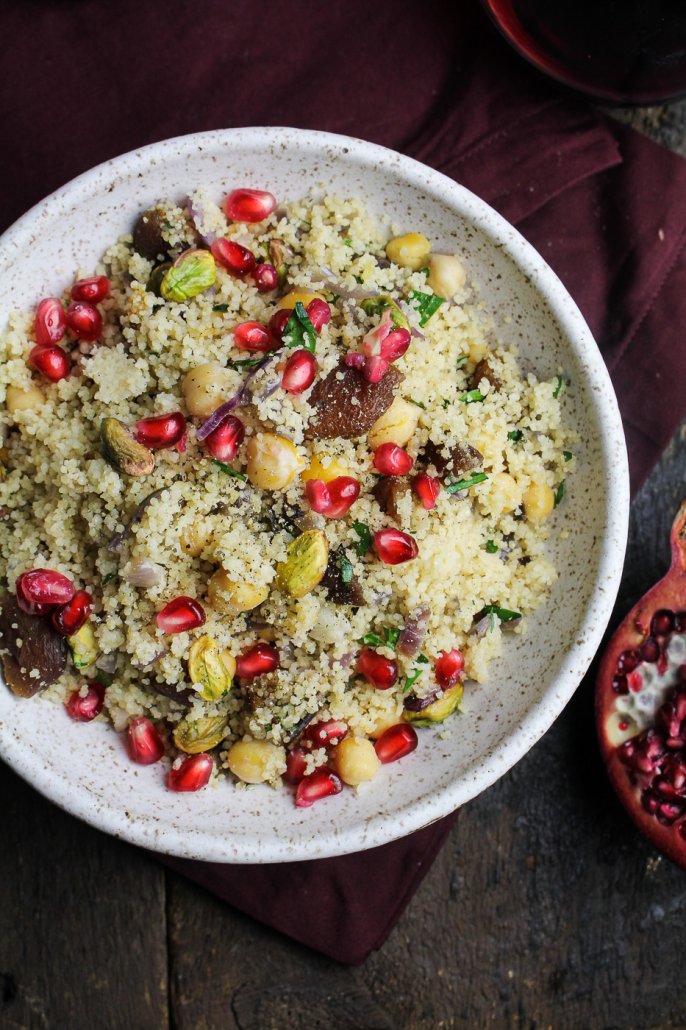 As I was planning out this recipe I kept adding more ingredients. Preserved lemon?, my notes read. Pomegranate? Orange juice? Parsley? I knew I wanted the base to be couscous, dried apricots, and pistachios but there were so many other complementary flavors to include. In the end, I added almost everything from my initial list, and the result was wonderful. This dish is packed with flavors and crunch and brightness. I love the sautéed red onion and the salty-sour punch of the preserved lemon and pretty much everything else about it.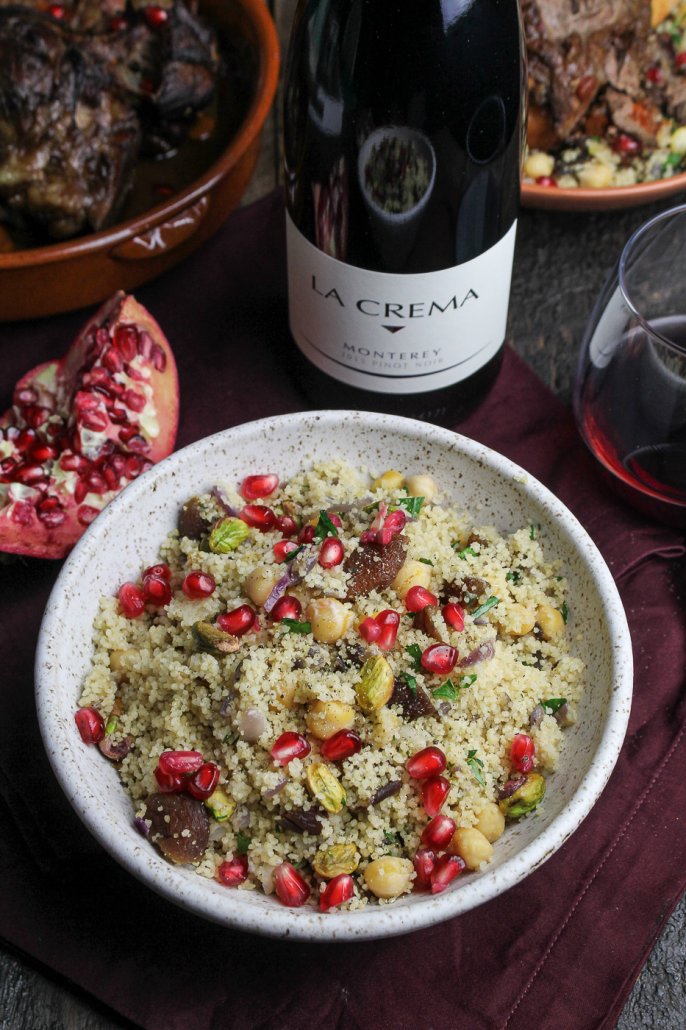 With all those ingredients, it also looks great with the bright green pistachios and flecks of parsley and jewel-toned pomegranates. It looks royal, I think, so that's what I'm calling it: Royal Couscous. Couscous fit for a king's feast. There is a traditional Moroccan dish called "Couscous Royale" which is not this – hopefully I don't cause any confusion with my naming convention.
Since I served this couscous under the Moroccan-Braised Lamb Shanks, the best wine pairing was La Crema's Monterey Pinot Noir. If you're serving it without the lamb, either the Pinot Noir or the Monterey Chardonnay could work well. With so many different add-ins, different wines will emphasize different flavors. Experiment with it!
Royal Couscous with Apricots and Pistachios
Author: Katie Morris of Katie at the Kitchen Door

Ingredients
1 TBS olive oil
1/2 red onion, peeled and finely chopped
1 1/2 cup chicken stock
1/2 cup orange juice
1 1/2 cup couscous
3/4 cup dried apricots, cut into bite-sized pieces
3/4 cup shelled pistachios
3/4 cup cooked chickpeas
1 piece of preserved lemon, roughly chopped
1/4 cup finely chopped fresh parsley
Pomegranate seeds for garnish
sea salt to taste
Instructions
Heat the olive oil in a small frying pan over medium heat. Add the chopped red onion and saute until translucent, about 3-5 minutes. Remove from the heat and set aside.
Add the chicken stock and orange juice to a medium saucepan. Bring just to a boil over medium heat, then immediately remove from the heat, add the couscous and the apricots to the pan, and cover tightly with a lid. Shake the pan once or twice to make sure the couscous is evenly submerged under the hot liquid. Allow the couscous to steam for 5-7 minutes.
Remove the lid from the pan and use a fork to gently fluff the couscous. Add the sautéed red onions, pistachios, chickpeas, preserved lemon, and parsley to the pan and stir to combine. Season to taste with sea salt. Sprinkle with pomegranate sees and serve immediately on its own or underneath Moroccan-Braised Lamb.
Moroccan Dinner Menu: