Moroccan Dinner: Spiced Carrot Dip
With fall really starting to settle in, I'm excited to share this adventurous Moroccan dinner menu featuring a flurry of amazing spices, flavors and textures, starting with this spiced carrot dip.
Over the past two years, I've developed a series of dinner menus with La Crema, each one featuring the flavors of a different country. For most of the dinners in this series – Japanese Izakaya, Italian Seafood, Provençal Rosé – my inspiration has been firsthand. But for this one, featuring the warming spices of Morocco, I'm an armchair traveler. An armchair eater maybe? So I can't tell you if these recipes taste just like they would if they were eaten outside the bustling Medina or in the cool courtyard of a riad. All I can promise is that they evoke warmth and vibrancy, two things I find myself craving as the days shorten and darken.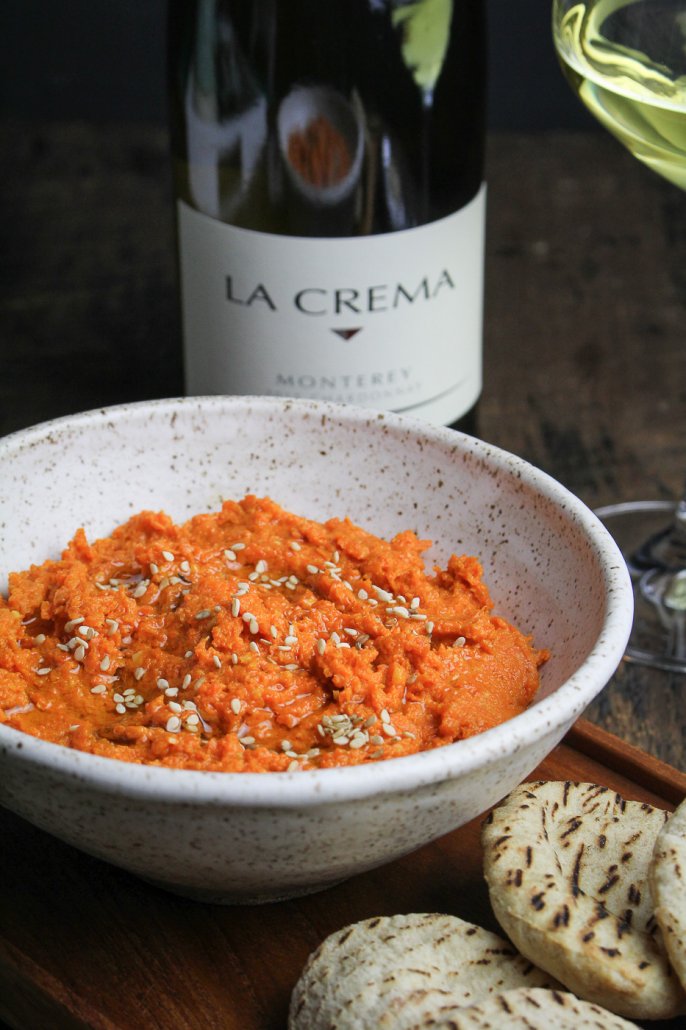 As usual, this menu contains an appetizer,  a main course, a side dish, and a dessert in a companion post over on my blog, Katie at the Kitchen Door. The appetizer this time is aMoroccan Spiced Carrot Dip, served with fresh pita bread. The main: Moroccan-Braised Lamb Shanks, served over what I've decided to call Royal Couscous – couscous with lots of delicious mix-ins like apricots and pistachios. And if you're still hungry after that (or just want a good cookie recipe for the upcoming holiday season), I've made Pistachio Thumbprint Cookies for dessert.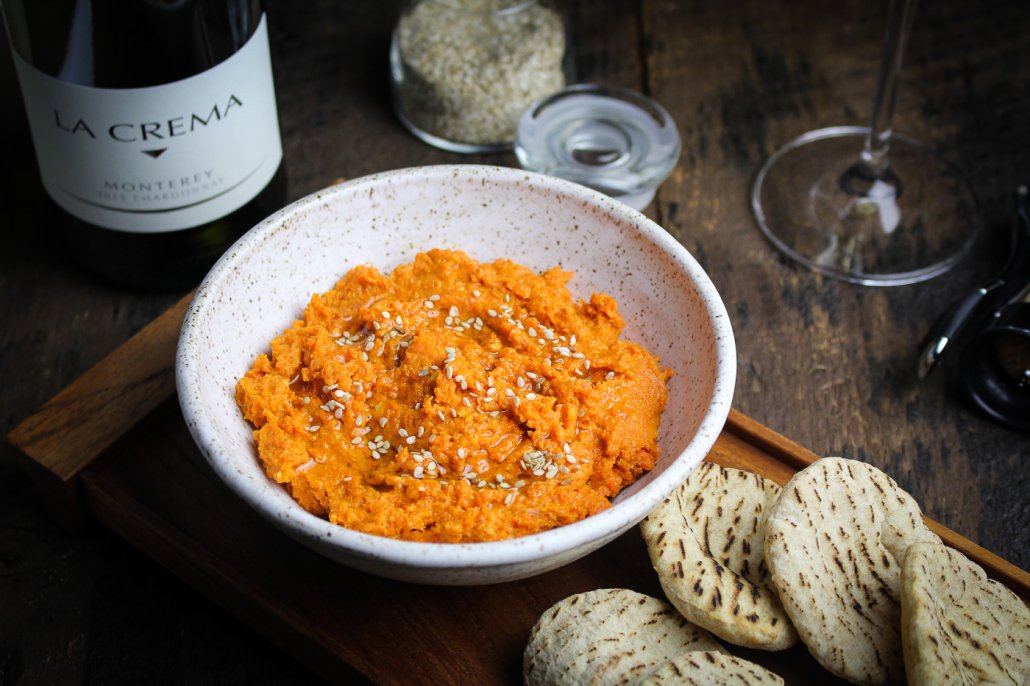 Most of the recipes I saw for Moroccan Spiced Carrot Dip used boiled carrots. This makes sense – you want your carrots to be super soft in order to have a smooth dip. However, I recently had two roasted carrot dishes that were really sublime. The carrots took on an unctuous, perfectly caramelized texture. Carrots are such a ho-hum vegetable, it's rare for them to be the star of anything. But those roasted carrots changed the way I thought about the perennial side dish vegetable, and I wanted to capture a bit of that here.
So I boiled the carrots until just al dente, and then transferred them to a hot oven for a quick roast. I also drizzled them with a spiced oil, rather than using the spices raw. Then I blended the carrots with fresh ginger, tahini and lemon juice, making a thick, vibrant purée. This dip was surprisingly complex. Just a little bit of lemon, tahini, and pomegranate molasses bring a lot of flavor. Also it's so beautifully orange! We ate this with fresh pita and a glass of La Crema Monterey Chardonnay, which further enhanced the sweetness of the dip. Its rare that I come home from work craving something as vegetal as carrot dip, but that's what happened with this recipe. It's an easy and different appetizer to have in your repertoire.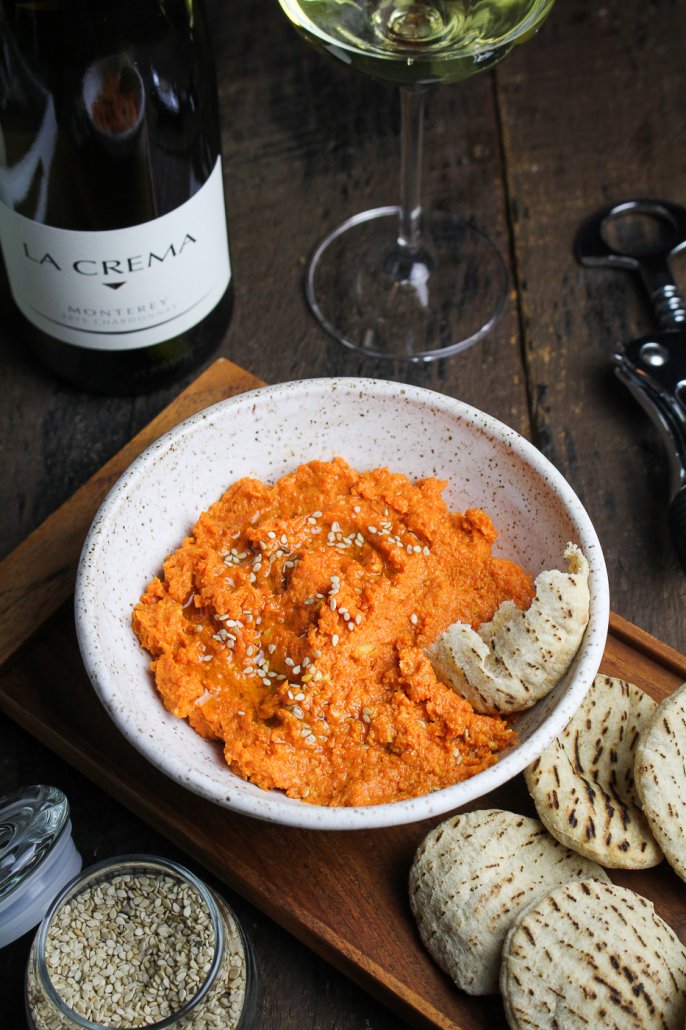 Moroccan Spiced Carrot Dip
Author: Katie Morris of Katie at the Kitchen Door
Prep time:
Cook time:
Total time:
Serves: 4
Ingredients
6-8 carrots, peeled and cut into large pieces
5 TBS olive oil, divided
1 TBS pomegranate molasses
1/2 tsp ground cumin
1/2 tsp ground coriander
1/4 tsp ground harissa powder
1/4 tsp sea salt
2 tsp finely minced fresh ginger
juice from 1/2 lemon
1 TBS tahini paste
Fresh pita for serving
Instructions
Preheat the oven to 400 degrees F.
Place the peeled carrot pieces into a small pot and add cold water to cover. Bring to a gentle simmer over medium heat and cook until just barely tender when poked with a fork, about 10 minutes. Drain the carrots and set aside.
In a small bowl, whisk together 3 TBS of the olive oil, the pomegranate molasses, the ground cumin, coriander, harissa, and sea salt until evenly combined. Spread the carrots out on a rimmed baking sheet, then drizzle with the spiced olive oil. Use a spatula to flip the carrots a few times so they are coated in the olive oil mixture. Roast for 15 minutes, stirring once halfway through. Carrots should be very tender and beginning to caramelize.
Place the roasted carrots, the fresh ginger, the lemon juice, the tahini, and the remaining 2 TBS of olive oil in a food processor. Process the carrots until a smooth dip is formed. Taste the dip and adjust the seasoning (lemon, tahini, salt) if necessary. Serve warm or cold with fresh pita.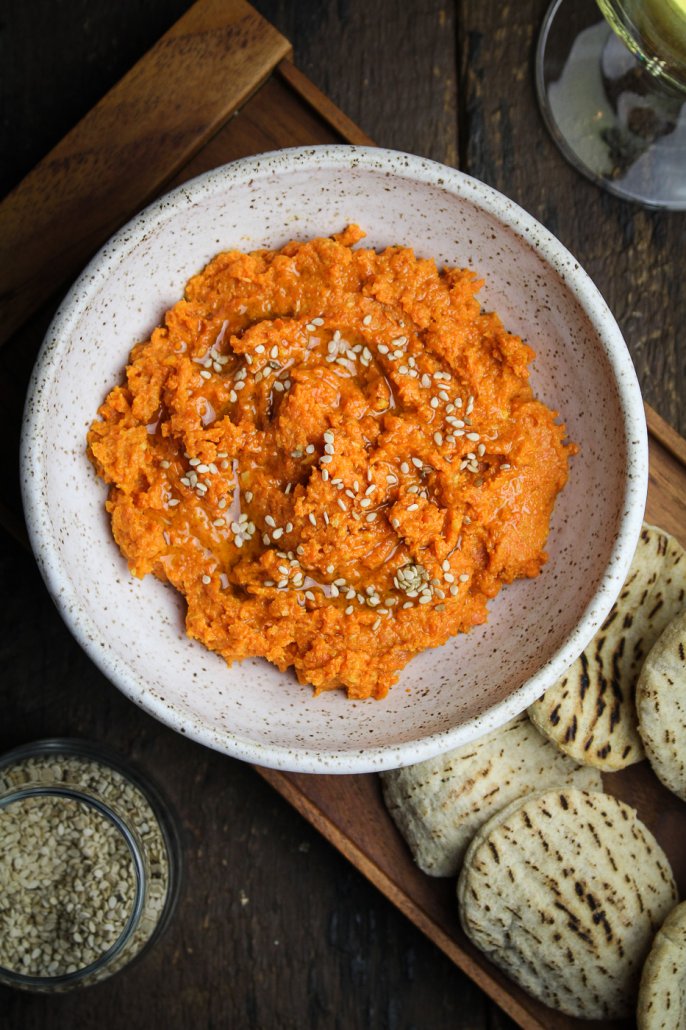 Moroccan Dinner Menu: