Japanese Izakaya: Tsukune
When we visited Japan last winter, an evening crowded at a long izakaya table was a highlight. One year later we attempted to replicate the experience at home, to warm up a cold January night. On our menu: tsukune with egg yolk, miso-marinated pork skewers, and seasonal vegetable tempura with mushrooms, brussels sprouts, and sweet potato. We broke out the indoor grill pan, cracked a few bottles of La Crema Monterey Pinot Gris and Sonoma Coast Chardonnay, and settled in for a night of cooking, drinking, and noshing.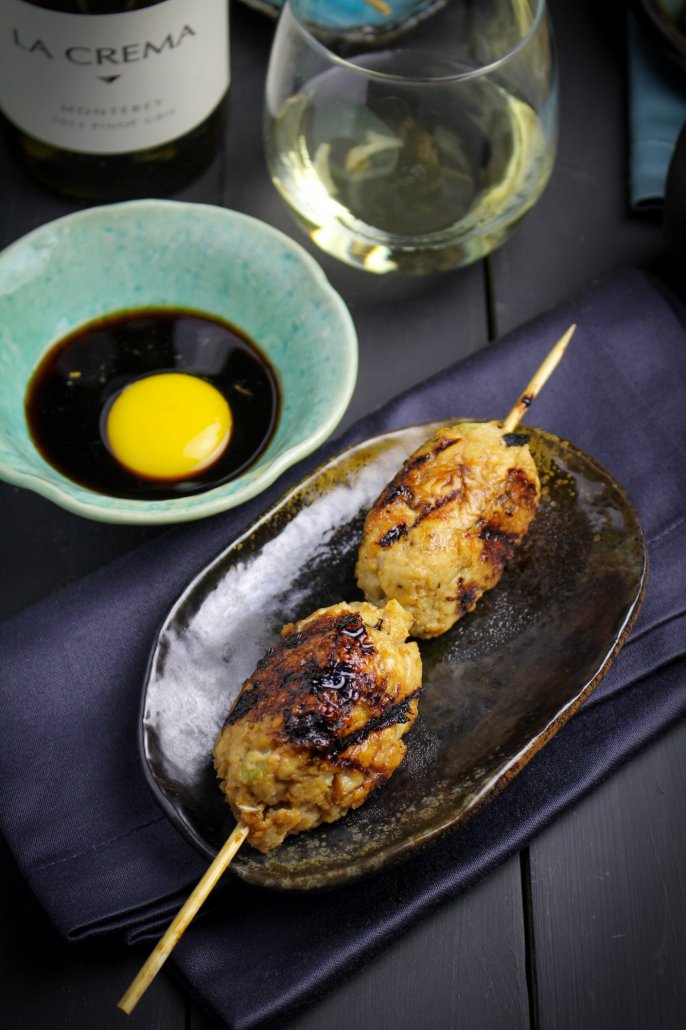 If you ever go to Tokyo, find your way to an izakaya. Located under elevated train tracks and down alleyways, these smoke-filled, hole-in-the-wall taverns are a once-in-a-lifetime experience for American travelers. Sometimes little more than a collection of plastic crates and an open grill sheltered by plastic sheeting, they turn out piles of grilled meats and cold sake to hungry patrons.
Filled with rowdy Japanese businessmen still dressed in suits, and the occasional foreign tourist, an izakaya offers an authentic experience that is difficult to manufacture. The atmosphere is a big part of the draw for a traveler, but the food is worth the trip as well. Menus vary from tavern to tavern, but fried foods, sashimi, and yakitori are staples.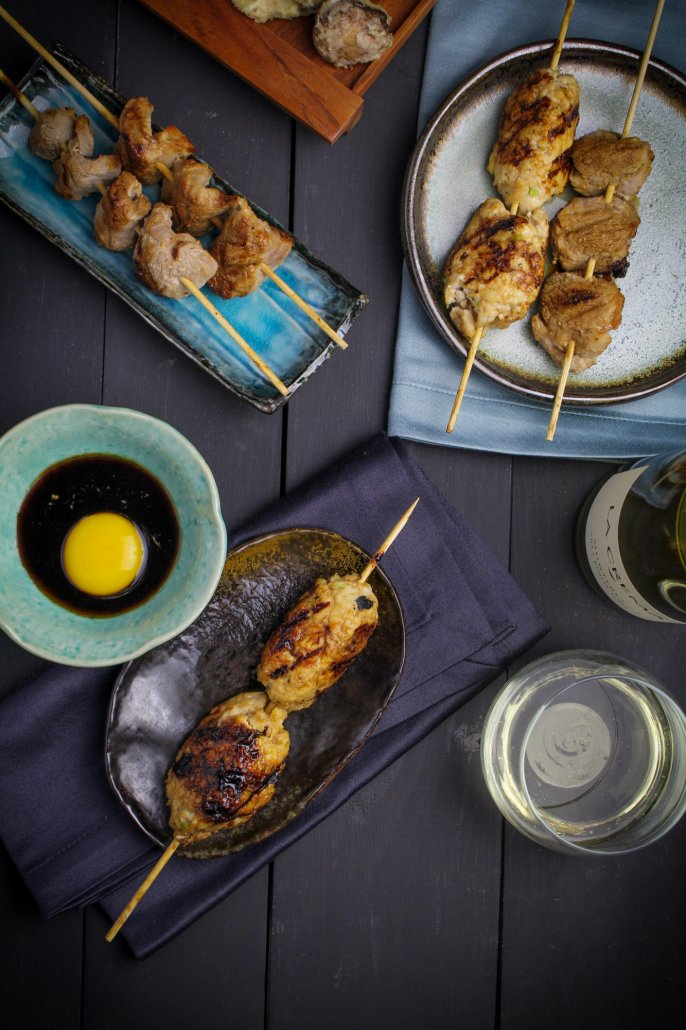 My favorite izakaya dish is a type of yakitori called tsukune, a grilled chicken meatball served with a salty-sweet tare sauce and raw egg yolk. Although I couldn't replicate the full izakaya experience at home, these tsukune still brought me back to that dim and smoky tavern under the train tracks. In the absence of a traditional charcoal yakitori grill, Marc of No Recipes recommends starting to cook your meatballs in a frying pan before skewering them and finishing them off on a grill pan, brushing them with tare as they grill. Tsukune are lightly seasoned with grated ginger, chopped scallions, and salt – they're subtle, but super savory. The tare they are brushed with, made from soy sauce, mirin, brown sugar, and sake, provides an intense burst of flavor with every bite. To balance the salty-savory-sweet flavors, a cold and bright Pinot Gris is a good pairing.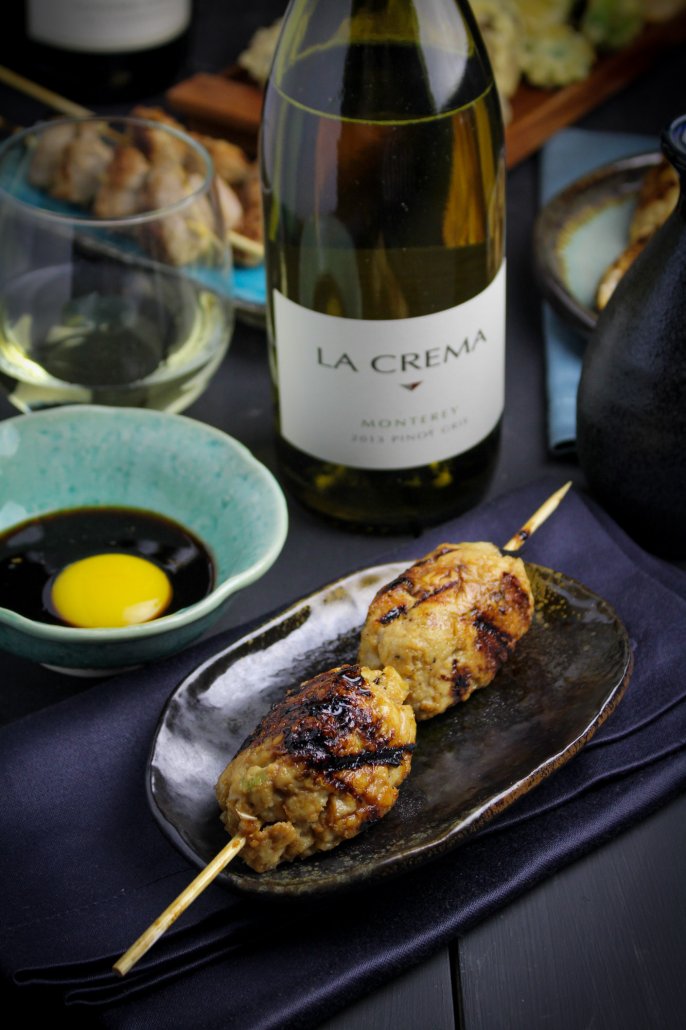 Tsukune - Grilled Chicken Meatballs
Author: Katie Morris of Katie at the Kitchen Door
Recipe type: Appetizer
Cuisine: Japanese

Tsukune – a traditional Japanese yakitori dish consisting of lightly seasoned grilled chicken meatballs glazed with tare. Recipe adapted from No Recipes.
Ingredients
1 lb ground chicken
1 TBS plus 1 tsp grated fresh ginger root
1/4 c. chopped scallions
1 tsp cornstarch (optional)
1 tsp sea salt
1/4 cup soy sauce
1/4 cup mirin
2 TBS light brown sugar
1/4 cup sake
1 TBS canola oil
2 raw egg yolks for serving
Instructions
Before starting, place six wooden grilling skewers in a tray filled with water and allow them to soak.
In a large bowl, use a spoon to mix together the ground chicken, 1 TBS of the fresh ginger, the scallions, and the sea salt. Mix until evenly combined. Form a small patty with your hands to test the consistency – if the mixture is holding together easily, return the meat to the bowl and chill for 20-30 minutes. If it is too loose, stir in a teaspoon of cornstarch before chilling.
To prepare the tare, place the soy sauce, mirin, brown sugar, and sake in a small saucepan and stir to combine. Bring to a boil over medium heat, stirring constantly (watch to make sure it doesn't boil over, lowering the heat if needed). Boil until the mixture is reduced by half and is thick and shiny. Remove from the heat and divide between three bowls. Let cool to room temperature.
To cook the meatballs, form the chilled chicken mixture into 12 oblong meatballs. Heat the canola oil over medium heat in a frying pan. Working in batches, place the chicken meatballs in the pan and fry until cooked through on each side, about 1-2 minutes per side. Rotate gently using tongs. When the chicken is fully cooked on the outside, carefully remove to a plate. Place a wooden skewer through two meatballs, creating six skewers.
Heat an indoor cast iron grill over medium heat. Brush with oil. Place one of the bowls of tare next to the grill. Grill the meatballs for 5 minutes, turning every 60 seconds. Just before finishing the meatballs, brush all over with the tare then cook for 30 seconds more per side, just enough to caramelize the tare. Remove one skewer and check to make sure it is cooked all the way through. When cooked, remove all the skewers from the grill. To serve, place the two egg yolks in the two unused bowls of tare. Serve the skewers hot with the tare-egg mixture for dipping.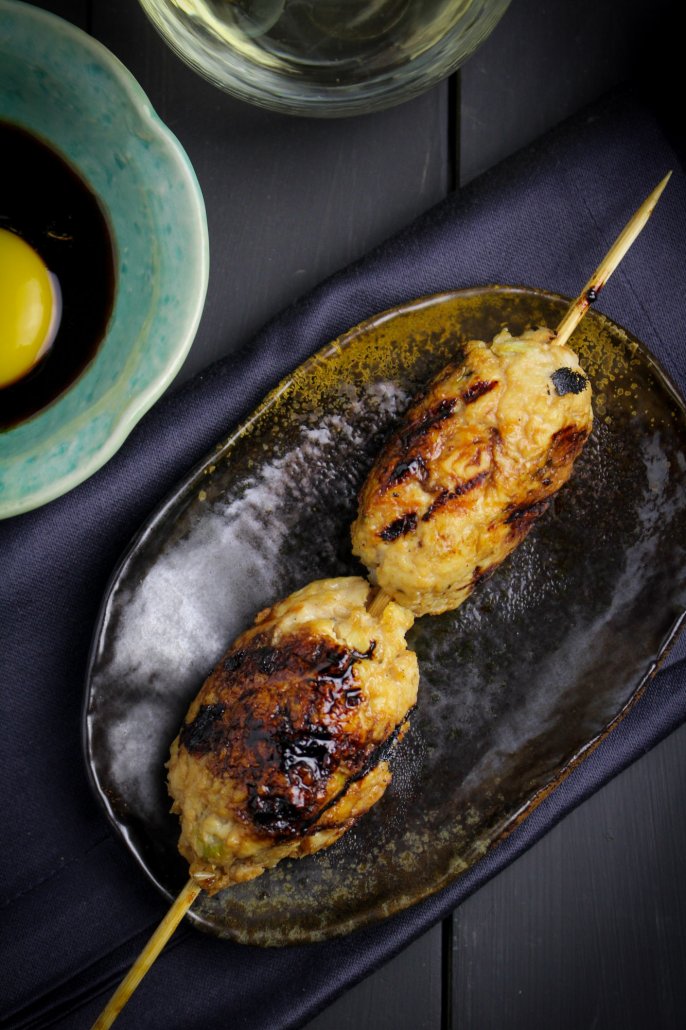 Japanese Izakaya