Japanese Izakaya: Winter Vegetable Tempura
Winter Vegetable Tempura, or tempura in general, doesn't make me think of Japan. It makes me think of Japanese American restaurants. It's a staple of the brand of restaurant that popped up in American suburbs in the 90s – after the teppanyaki phase and before ramen and Yakitori were of the moment. The kind of sort of fancy but kid friendly place you went for graduation parties and birthdays. I don't know, perhaps I'm not describing a universal experience, but just my own.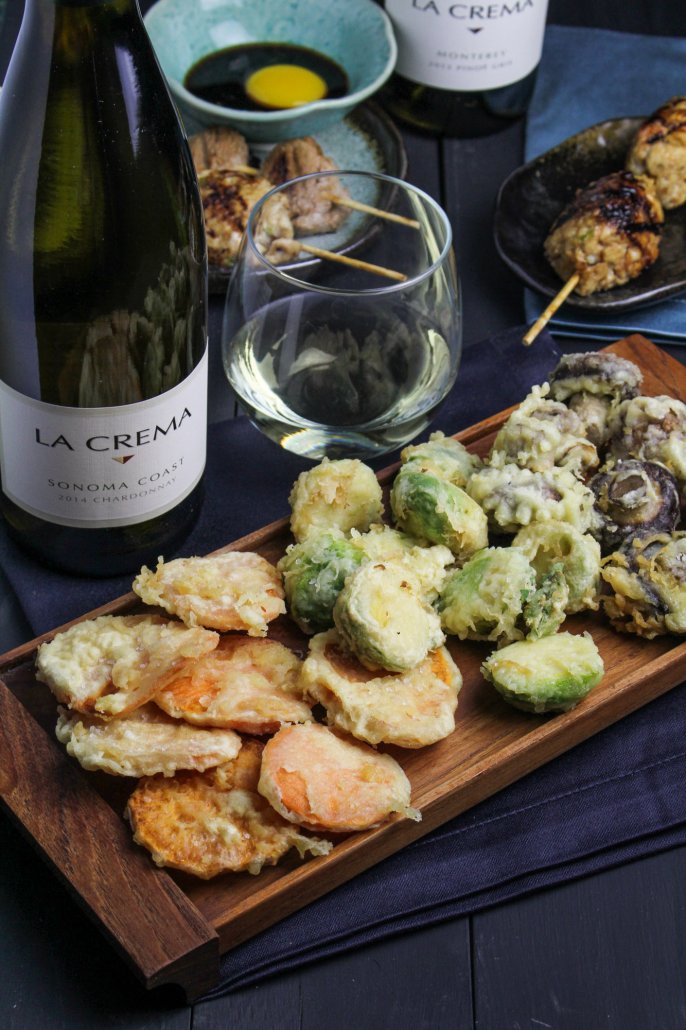 At these restaurants, you would order big bowls of udon and platters of something-teriyaki and always, tempura. This experience to me was so much a part of how I experienced Japanese culture in America that I was genuinely surprised to find it to be very much a part of Japanese culture in Japan. I shouldn't have been surprised – Japanese cuisine is very specific and very honed, perfected over centuries. Any dish that's coming out of Japan, even in a generic Japanese-American restaurant, is deeply Japanese.
We made seasonal winter vegetable tempura as part of our winter izakaya dinner. For vegetables, I chose sweet potatoes (because sweet potato tempura is the best kind!), brussels sprouts, and whole cremini mushrooms. We battered and fried them and ate them while still hot and crispy, in between bites of chicken meatball and miso pork skewer. Tempura takes a little bit of practice to get right. To keep the batter light and crunchy, it needs to be very cold, and just barely mixed together. The oil also needs to be the right temperature to cook the vegetables through quickly without burning the batter. You may end up with a few soggy vegetables and a few burnt ones, but after the first few batches you'll get it right.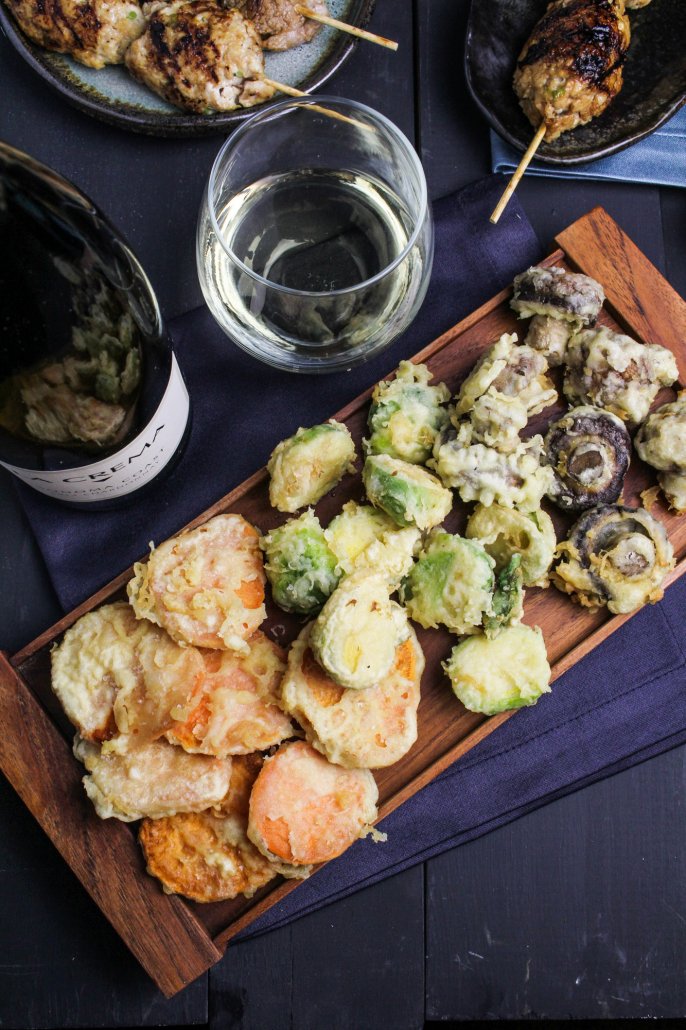 Like the other recipes we put together for our izakaya dinner, winter vegetable tempura pairs well with both La Crema Sonoma Coast Chardonnay and La Crema Monterey Pinot Gris. In the winter, we typically turn towards red wine for its warmth and richness, but this is a good example of a hearty, winter meal that pairs much better with a crisp white.
Winter Vegetable Tempura
Author: Katie Morris of Katie at the Kitchen Door
Recipe type: Appetizer
Cuisine: Japanese

Ingredients
1 sweet potato, peeled and cut into slices 1/8 inch thick
¾ lb. brussels sprouts, outer leaves removed, sliced in half lengthwise
½ lb. cremini mushrooms, brushed clean
2 egg yolks
2 cups cold water
2 ice cubes
2 cups plus 1 cup cake flour
4 cups vegetable oil
Sea salt
Instructions
Prepare your vegetables and set aside in a large bowl.
Whisk together the egg yolks and cold water in a large bowl until evenly combined. Add the ice cubes. Place 2 cups of the flour in one bowl (to be added to the egg yolks and water just before cooking) and the other cup of cake flour in a large shallow bowl (for dredging the vegetables). Set all the bowls aside.
Heat the vegetable oil in a large, deep frying pan, bringing the temperature to 360°F. If you don't have a frying thermometer, you can test the temperature by dropping a small amount of batter into the hot oil. If the batter drops for just a second and begins to sizzle almost immediately, it's approximately the right temperature (you may need to adjust the heat up and down as you fry).
When you are ready to fry, add the 2 cups of cake flour to the wet ingredients and quickly whisk to combine. You want to barely combine the ingredients – there should still be some lumps of flour in the batter. Dredge the vegetables one at a time in the other bowl of cake flour, to cover with a light coating of flour, then dip briefly in the batter. Let drip for a few seconds, then use wooden tongs to transfer the vegetables to the hot oil. Fry until batter is crispy and vegetables are beginning to brown and are cooked through – about 3-4 minutes for the sweet potato and brussels sprouts, and 2-3 minutes for the mushrooms. Fry the vegetables in small batches – the pan should not be too crowded. Once cooked, use tongs to remove the tempura from the oil and place on a paper-towel lined platter. Sprinkle immediately with sea salt. Repeat process with the remaining vegetables. Serve hot.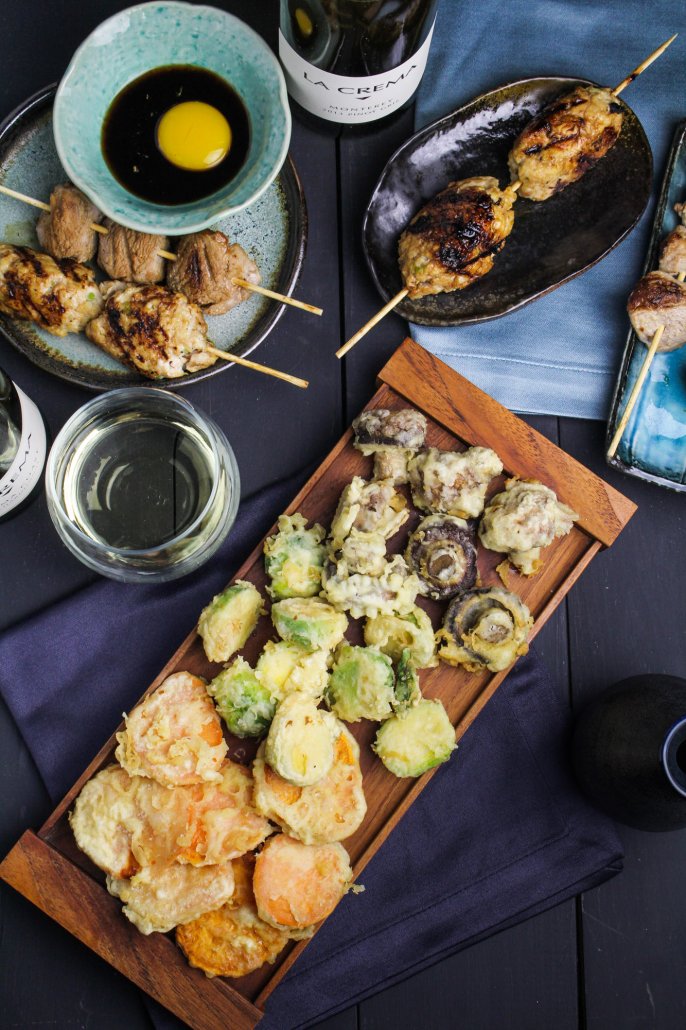 Japanese Izakaya