Vino & Veggies
Looking for a trio of delicious wine and vegetable pairings? Look no further.  La Crema's Chef Tracey Shepos Cenami and Wine Educator, Ben Fine, share their finest recipes.
Whether you already love vegetables or you're looking for a way to make vegetables tastier – this is a virtual tasting you don't want to miss! Chef Tracey's recipes and Ben's pairings will be shared with all participants after the event.
Get the wines so you can taste along!
2019 Sonoma County Sauvignon Blanc
Snag all three wines for $75 + Free Ground Shipping! Buy Here
Or find these wines in a store near you with our Store Locator .
The virtual tasting will be conducted via Zoom. Registration is free and required in advance. All registered participants will be sent a Zoom link and password, via email, 24 hours prior to the event. Register here.
Baked Zucchini with Feta, Preserved Lemon Butter & Crispy Bread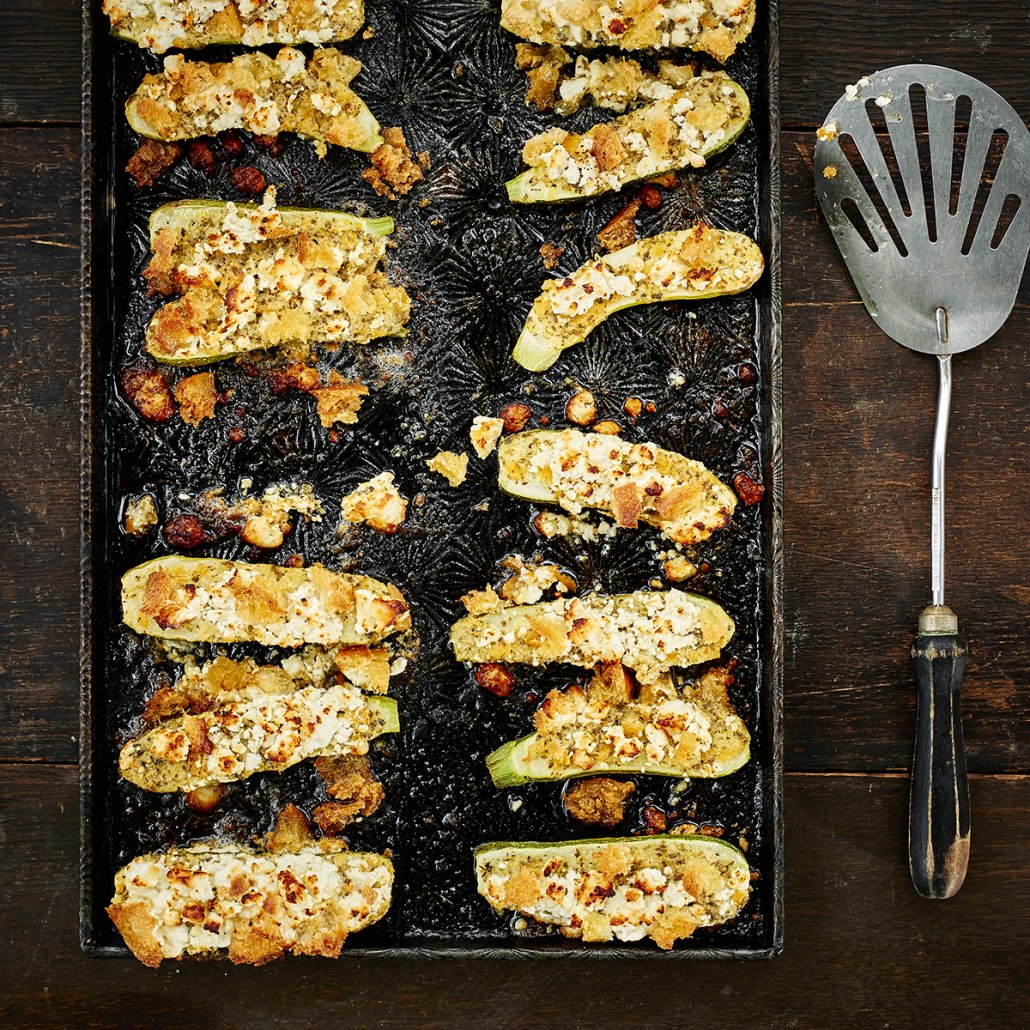 Wine Pairing: 2018 Sonoma Coast Chardonnay
Baked Zucchini with Feta, Preserved Lemon Butter & Crispy Bread
Serves: 4
Ingredients
4 medium-size zucchini, trimmed and halved lengthwise
1 small loaf soft French bread
1⁄2 cup extra-virgin olive oil
4 tablespoons unsalted butter, at room temperature
2 tablespoons finely chopped preserved lemon rind
2 cloves garlic
1⁄4 cup fresh oregano leaves
1 1⁄2 tablespoons finely grated lemon zest
2 teaspoons kosher salt
1⁄4 teaspoon freshly ground black pepper
4 oz good-quality feta cheese in brine, crumbled
Instructions
Preheat the oven to 425°F convection (450°F conventional).
To prepare the zucchini and bread: Arrange the zucchini halves, cut side up and close together, in a baking dish. Tear enough bread into rustic 1/2-inch pieces to yield 2 cups. In a medium bowl, toss the bread with the oil.
To make the butter: In a food processor, combine the butter, preserved lemon, garlic, oregano, lemon zest, salt, and pepper and process until smooth.
To assemble the dish: Generously dot the butter mixture evenly over the zucchini. Top the zucchini evenly with the feta and then with the bread, making sure they remain on top of the squash. Drizzle any oil remaining in the bowl from tossing the bread over the top.
To bake and serve: Bake for 15 minutes, until the cheese has browned and the zucchini is tender. Check the zucchini halfway through and rotate the dish 180 degrees if it does not appear to be baking evenly. Serve hot or at room temperature.
Caramelized Baby Carrots with Carrot Top-Hazelnut Pesto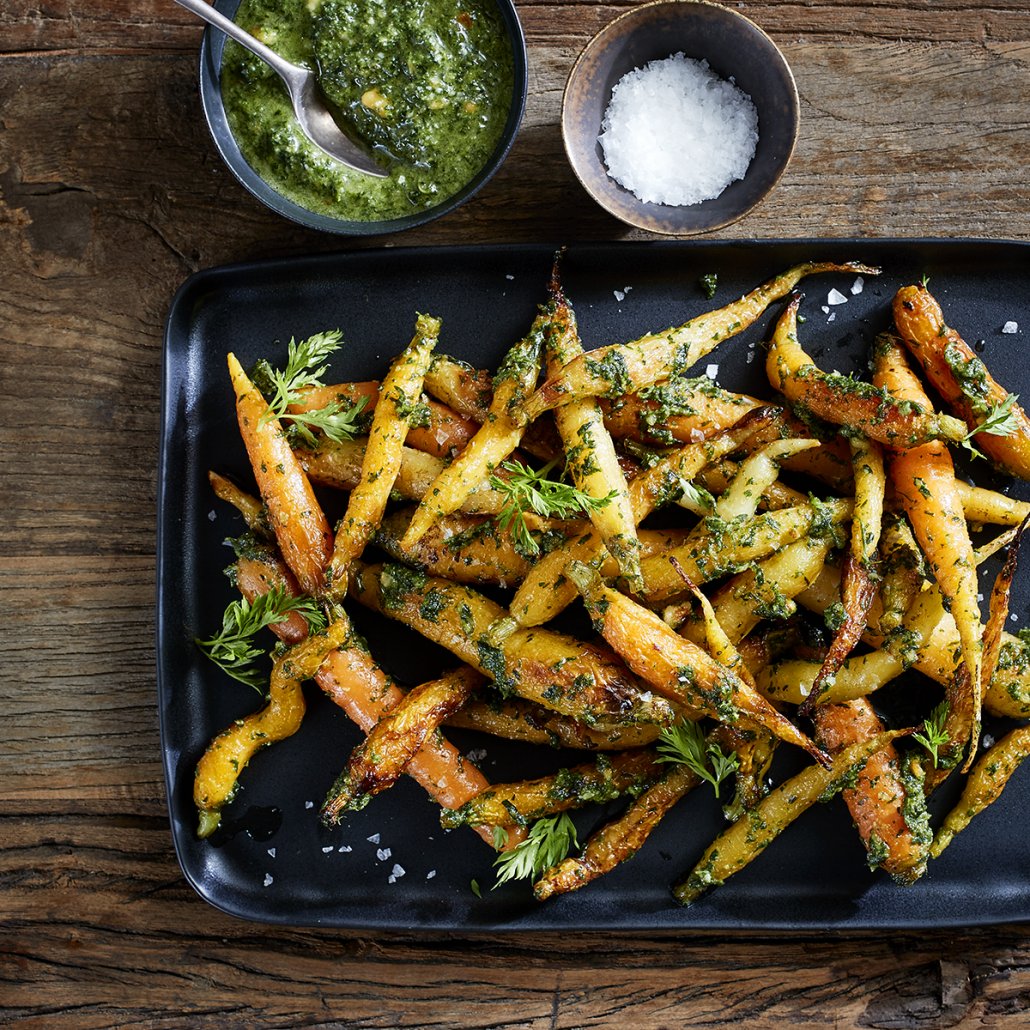 Wine Pairing: 2019 Sonoma County Sauvignon Blanc
Caramelized Baby Carrots with Carrot Top-Hazelnut Pesto
Serves: 8
Ingredients
2 lb bunched baby carrots, with bright green, healthy tops
2 tablespoons plus 1⁄2 cup extra-virgin olive oil
2 teaspoons kosher salt
1 tablespoon fresh tarragon leaves
1 teaspoon finely grated lemon zest
1 teaspoon freshly squeezed lemon juice
Maldon sea salt
1⁄2 cup loosely packed grated pecorino cheese
1⁄4 cup hazelnuts, toasted
Instructions
To roast the carrots: Preheat the oven to 450°F convection (475°Fconventional). Place a sheet pan in the oven to preheat for 5 minutes.
Rinse the carrots and carrot tops with cool running water. Trim off the tops and reserve 2 cups firmly packed tops. Trim off the root ends of the carrots. In a medium bowl, combine the carrots, 2 tablespoons of the oil, and the kosher salt and toss to coat evenly.
Remove the hot sheet pan from the oven and pour the carrots onto it in an even layer. Roast for 7 minutes, stir, and roast for about 7 minutes longer, until the carrots are tender but not mushy.
To make the pesto: While the carrots are roasting, in a food processor, combine the reserved carrot tops, tarragon, lemon zest and juice, and a small pinch of Maldon salt and pulse a few times, stopping and scraping down the sides of the bowl between pulses. Add the cheese and pulse until the greens are just chopped and the cheese is mixed. Add the hazelnuts and pulse until all of the nut pieces are no larger than a petite pea. The pesto should have a textured consistency, with all of its ingredients visible. Measure 3/4 cup of the pesto for dressing the carrots. The remaining pesto will keep in an airtight container in the refrigerator for up to 1 week.
To serve: Transfer the 3/4 cup pesto to a medium bowl, add the remaining 1/2 cup oil, and stir to mix well. Add the hot carrots to the mixing bowl and toss well with the pesto mixture. Taste and adjust the seasoning with Maldon salt if needed. Transfer the carrot mixture to a serving platter and serve immediately.
Heirloom Tomatoes with Basil Salt & Ice Lettuce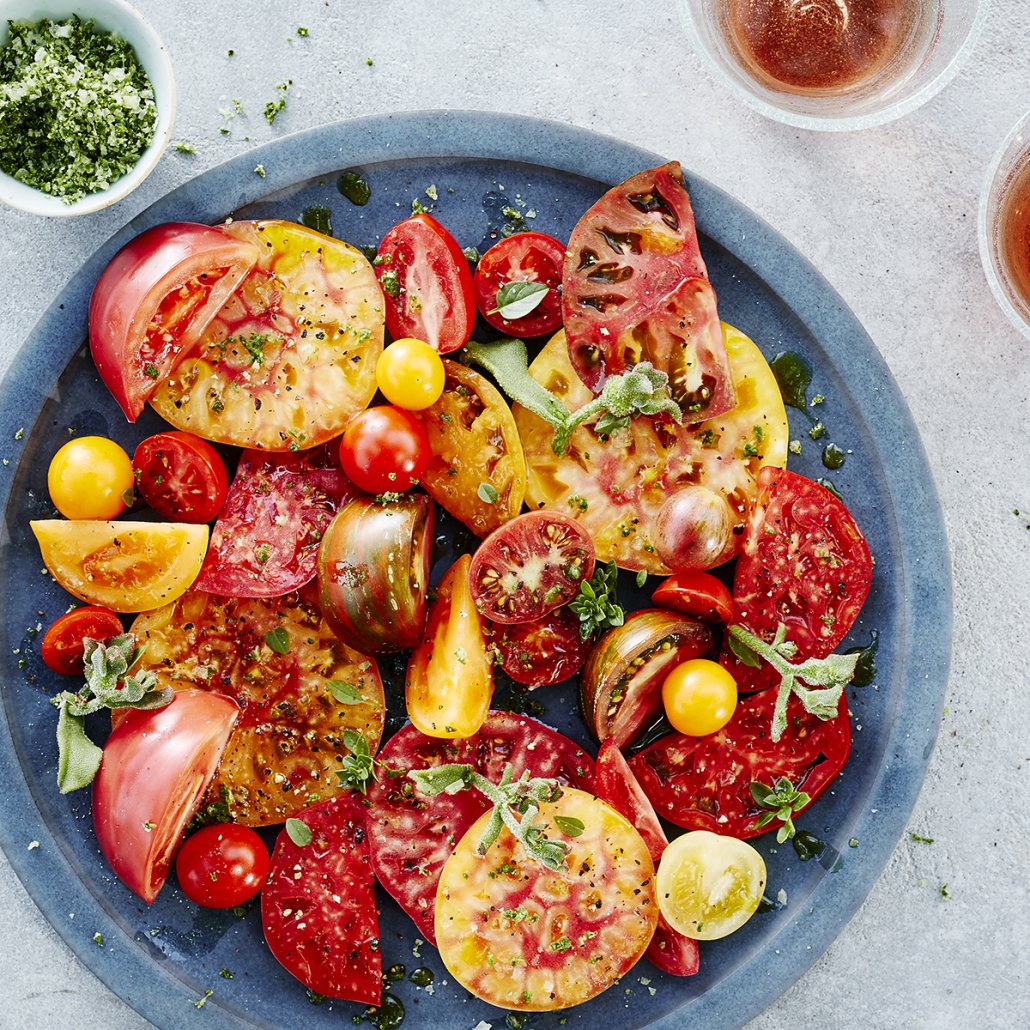 Wine Pairing: 2019 Monterey Pinot Noir Rosé
Heirloom Tomatoes with Basil Salt & Ice Lettuce
Serves: 4
Ingredients
1 bunch basil
1⁄4 cup kosher salt
1 1⁄2 teaspoons sugar
1 3⁄4 lb heirloom tomatoes, in assorted colors
1⁄4 lb cherry tomatoes
4 tablespoons extra-virgin olive oil
Ice lettuce, for serving (optional)
Freshly ground black pepper
Instructions
To make the basil salt: Pick the leaves off the basil bunch, reserving 8 small leaves for garnish. You should have about 4 cups loosely packed leaves. Put the leaves in a food processor, add the salt, and process for 1 minute. Add the sugar and pulse for 10 seconds. Spread the basil salt in a thin layer on a plate and microwave for 30-second intervals, stirring after each interval, for 3 to 5 minutes, until the moisture is removed. Let cool to room temperature and then sift through a fine-mesh sieve into a small bowl. Transfer to an airtight container and keep in the freezer until ready to use.
 To assemble: Slice large tomatoes into various shapes, such as circles, half-circles, and wedges. Cut the cherry tomatoes in half. Divide the tomatoes evenly among individual serving plates and drizzle each plate with 1 tablespoon of the olive oil. Tear the reserved basil leaves and garnish the plates, along with the ice lettuce, if using. Sprinkle to taste with the basil salt and pepper.