Southern Chicken and Waffles
Oh, chicken and waffles. Fairly new to the Southern food game, but very welcome nonetheless. The first time I ever tried chicken and waffles was during my initial visit to (my now hometown) Charleston, South Carolina. I'd been seeing all over my favorite foodie Instagrams and tracking down the best place to try it. I think the best part about chicken and waffles is the contrast – soft and crispy and spicy and sweet. For me, the more contrast the better.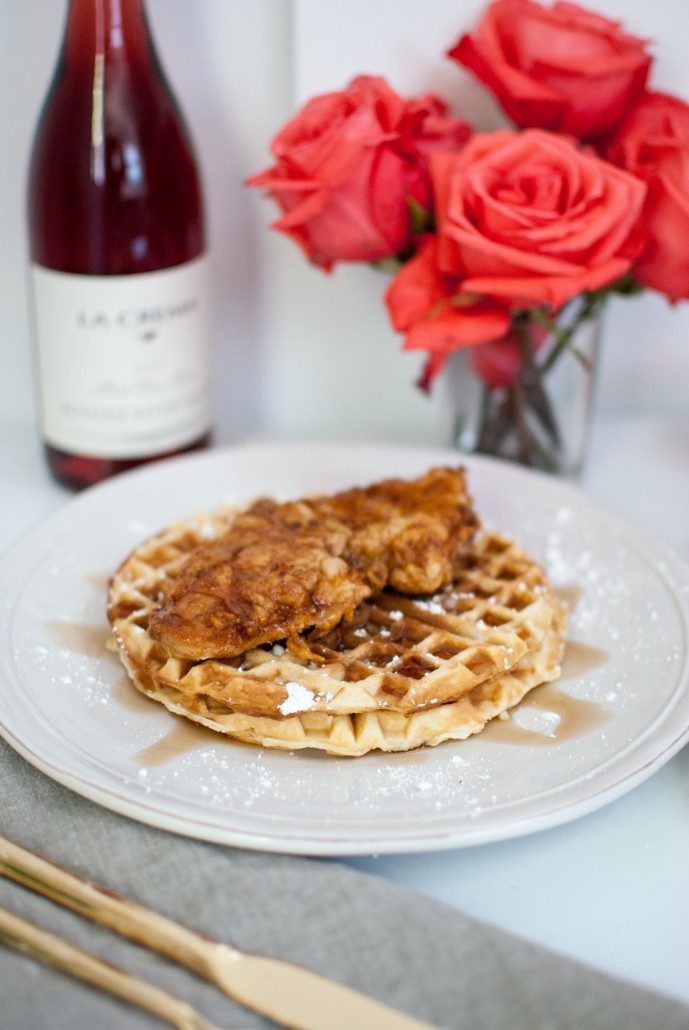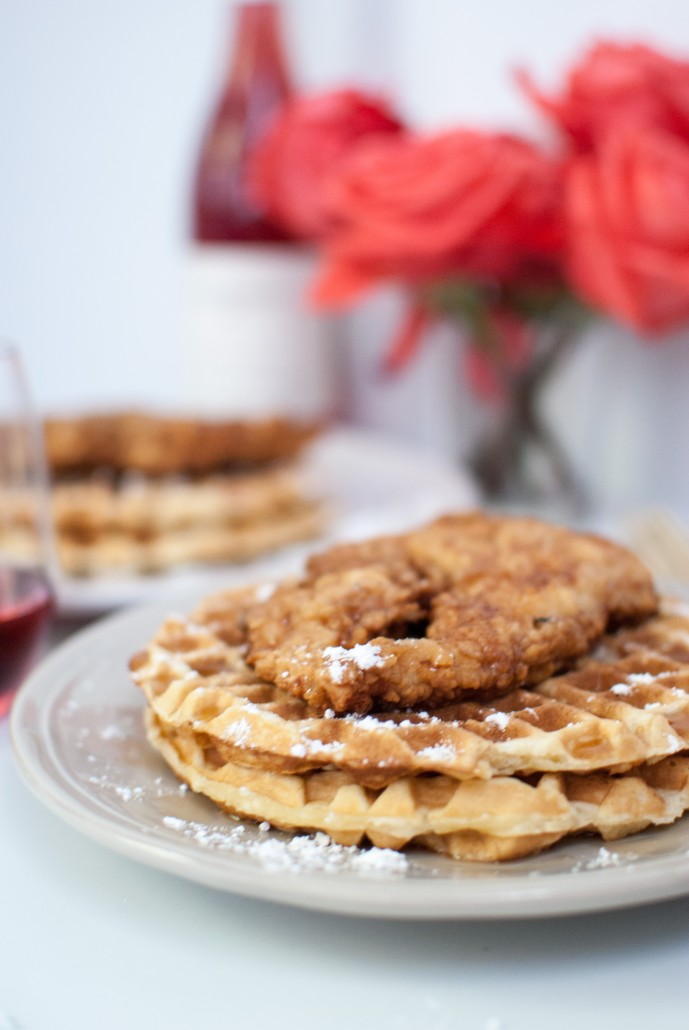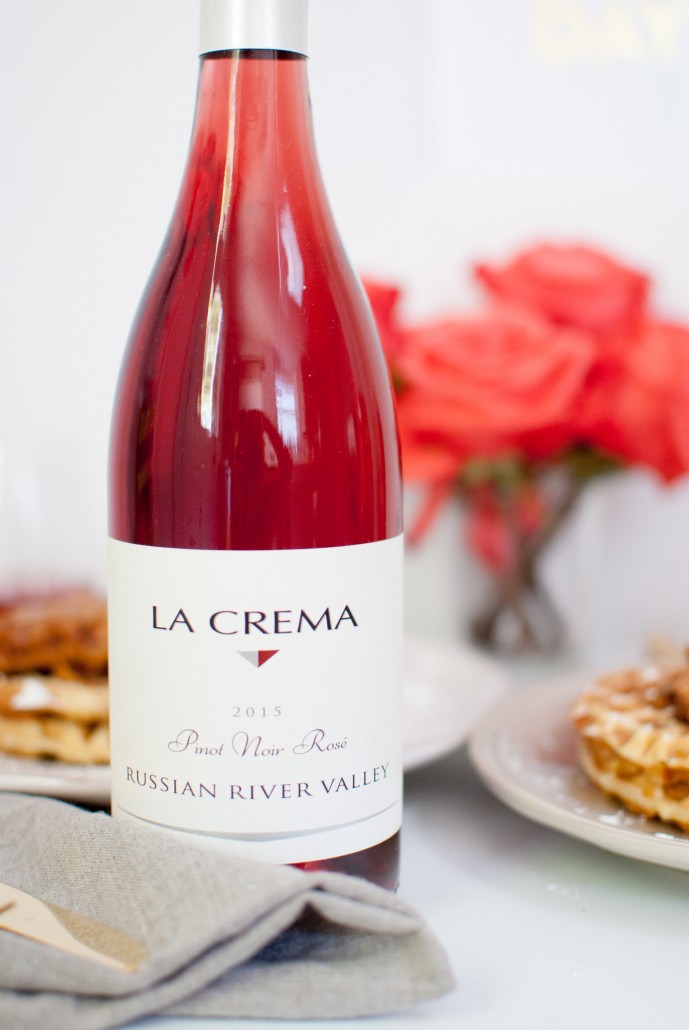 This dish is perfect for a Sunday brunch at home (or a weeknight indulgence – no judgement here!), so I love with it with La Crema's Russian River Rosé. Its crisp acidity balances the contrasting flavors of the chicken and waffles well – and let's be honest, who doesn't love a little brunch rosé?!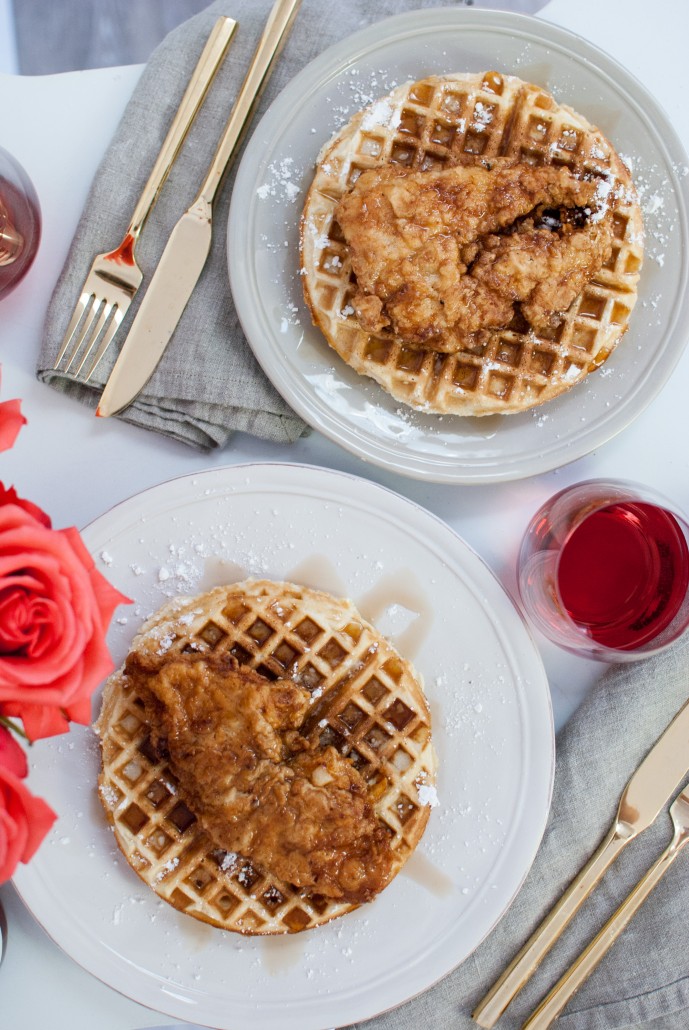 There are lots of different ways to fry chicken – and everyone will tell you their way is best. To get the southern scoop, I called up my grandmother who always knows the Southern way! She insists on a heavy flour dredge with lots and lots of salt and pepper. I added a kick with some cayenne pepper (the sweet and spicy contrast is just too good to pass up!), and soaked the chicken in buttermilk over night. OH, and you can't skip the shortening to fry the chicken – it's vital to the crispy brown crust you want!
Southern Chicken and Waffles
Ingredients
For the chicken:
1 chicken breast, sliced down the middle for thinner cuts
salt
pepper
cayenne pepper
1 cup butter milk
2 eggs, beaten
flour for dredging
shortening for frying
For the waffles:
2 large eggs, separated
2 cups all-purpose flour
1/2-3/4 cup sugar (keeping in mind you'll add powdered sugar and maple syrup!)
1 tsp. vanilla extract
1 stick melted salted butter, plus more for serving
4 tsp. baking powder
1.5 cups milk
1/4 tsp. salt
maple syrup
powdered sugar to garnish
Instructions
Combine flour, sugar, baking powder, and salt in large bowl.
Whisk together egg yolks, vanilla extract, and milk in a separate bowl.
Whip egg whites until frothy and set aside.
Slowly pour wet mixture into the dry mixture being careful not to fully mix. Fold in egg whites, and pour butter over mixture and combine.
Using a waffle iron, pour about 1/2 a cup of mix and cook to your desired crispness.
To plate: Stack two waffles on a plate, top with powdered sugar, and place chicken on top. Pour over your desired amount of maple syrup, pour a glass of rosé and enjoy!!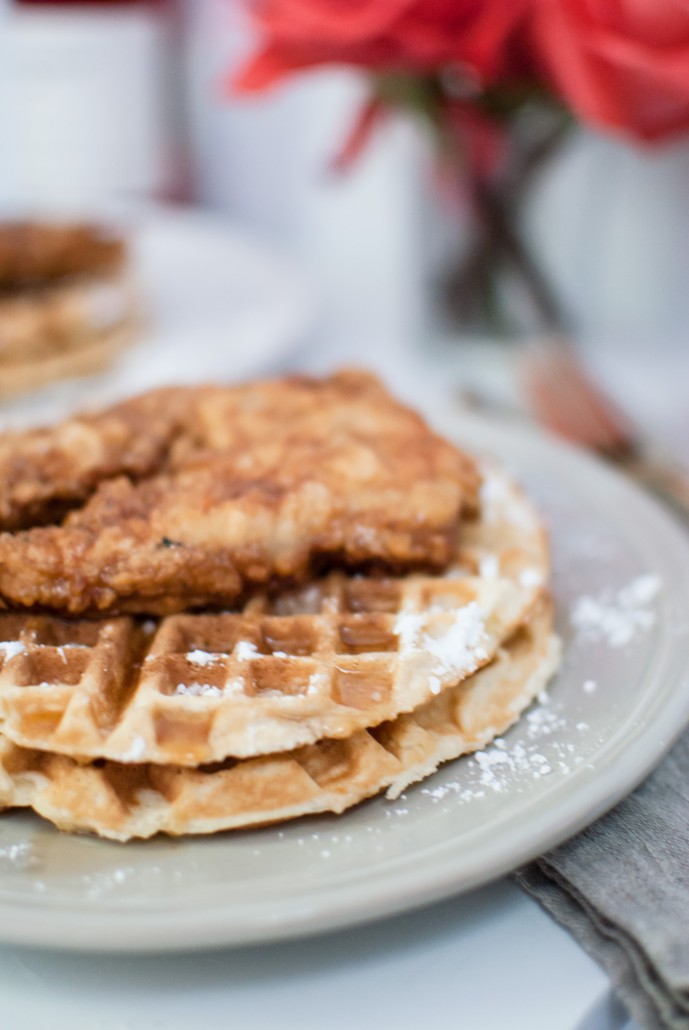 Recipes from our Southern Food series: