Best of Summer, Poolside Brunch
A poolside brunch may be less conventional compared to your run-of-the-mill, indoor, eggs benny feast. But if you're going to host one of the most popular weekender meals, then why not make it a full-fledged, immersive event where you and your guests can enjoy great food, sunshine, and overall good vibes by combining brunch with a pool party?
Don't have a pool? We got you covered there. There are stylish, inflatable, "kiddie" pools for adults. They are an easy solution if you have a pool-less yard, and they are a great way to decorate and transform your space from a quaint suburban home into a jet-setting, chic oasis.  Make your backyard feel like the scenic Italian coast, a Palm Springs-esque party, or a luxurious Moroccan vacation. It's a great way to create a fun environment and encourage positive energy from your guests while giving them a space to soak and cool off. Plus, they're just fun. It's hard to take anything too seriously while sipping wine as you soak in an inflatable pool.
Besides creating a convenient backyard escape, the best part about hosting a poolside brunch is that you can make the meal as elaborate or simple as you'd like because the real star of the show is the pool and (of course) the wine!
Take a look at our suggestions below and start your pool party brunch planning!
Pick Your Brunch Serving Style
What kind of ambiance are you going for? Casual, sophisticated, or playful?
For casual, serve food at a breakfast bar. Let your guests come and go as they please with no set mealtime. Bring out different dishes throughout your party so food can stay fresh and guests can space out their snacking. Keep your beverages in a cooler or your home fridge and encourage the philosophy of "mi casa su casa". This helps keep the vibe relaxed while encouraging your guests to socialize and move around.
For a more sophisticated brunch, make seating arrangements and set up your outdoor tables with linens and centerpieces. You can keep food-serving easy by making it buffet style. Place food on your kitchen counter and have your guests queue up to serve themselves.
If you want to make it a little more formal without having to plate everyone's individual meal, make it family-style. Place large serving portions of each dish throughout the tables so guests don't have to leave their seats when serving themselves. Make sure you have wine bottles already opened and placed throughout the tables so guests can easily try different wines and pass bottles to each other.
For a more playful vibe, make it a floating brunch with a floating breakfast bar and floating drink cooler. These bars are engineered for drinks to stay cool and food to stay dry while they both remain buoyant. For this strategy, it's best to keep the food bite-sized—that way guests can easily snack without needing plates or making a mess. Making your food and drinks float in the pool will encourage your guests to go for a dip, cool down, and have fun.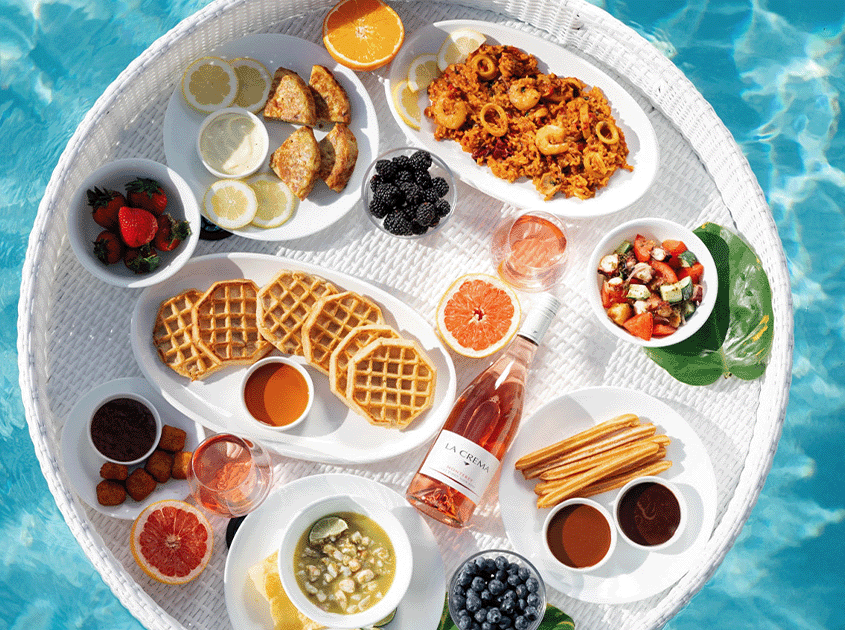 If you want to combine a playful and sophisticated approach, make it a "formal" in-pool brunch. Set a specific mealtime for people to eat and place food on stylish floating baskets. When that set time comes around, bring the food out and place it in the shallow end of the pool. Guests can stand around the baskets as they eat, chat, and stay cool. This is a great option if you want to stick to an itinerary for your party without having to force people to sit at a table for an extended period of time.
Sunday Brunch Ideas
When it comes to brunch foods, there are many different options to choose from. Of course, you can keep it classic with French toast, bacon, sausage, and eggs. But since you're hosting brunch poolside, why not offer a more summer-inspired, vacay menu? Spanish-inspired dishes are flavorful, not too heavy, and will no doubt impress even the picky eater of your friend group.
Ensalada de Pulpo
Ensalada de Pulpo is made with octopus, tomatoes, onions, and a tangy vinaigrette dressing. It's a refreshing and light seafood salad that's perfect for warm weather.
Churros con Chocolate
Step aside syrup and pancakes, because Churros con Chocolate will likely take over as the quintessential, sweet brunch menu item after you serve them. With their crispy texture, savory cinnamon, and lightly sweetened chocolate dip, your friends will be swooning over these!

Croquetas de Jamón
No brunch is complete without some croquettes. The Croquetas de Jamón is made with serrano ham and fig jelly. The salty ham perfectly complements the sweetness of the figs and creates a harmonious explosion of flavors.
Ceviche de Jalapeño
With shrimp, fish, roasted jalapeño, fresh lime, orange, and plantain chips, the refreshing and zesty Ceviche de Jalapeño is a great option to complement the atmosphere of a party where bathing suits are part of the dress code.
Tortilla Española
Brunch wouldn't be complete without an egg-centered dish. The Tortilla Española is a traditional Spanish omelet made with potatoes, caramelized onions, and garlic aioli. This is a brunch must!
Fresh Fruit & Waffles
If you want a few classic menu items, fresh fruit and waffles are always easy choices. Both have minimal prep and are easy for guests to grab if you're steering away from a formal sit-down meal.
For hot days, the juicy fruit can help your guests cool down and add to that tropical, vacay feel. Waffles are also a great option because they can be served sweet or savory. Add chocolate chips or blueberries to make a dessert treat.  Add cheese and chives to the batter for a delectably savory appetizer.
Don't Forget the Wine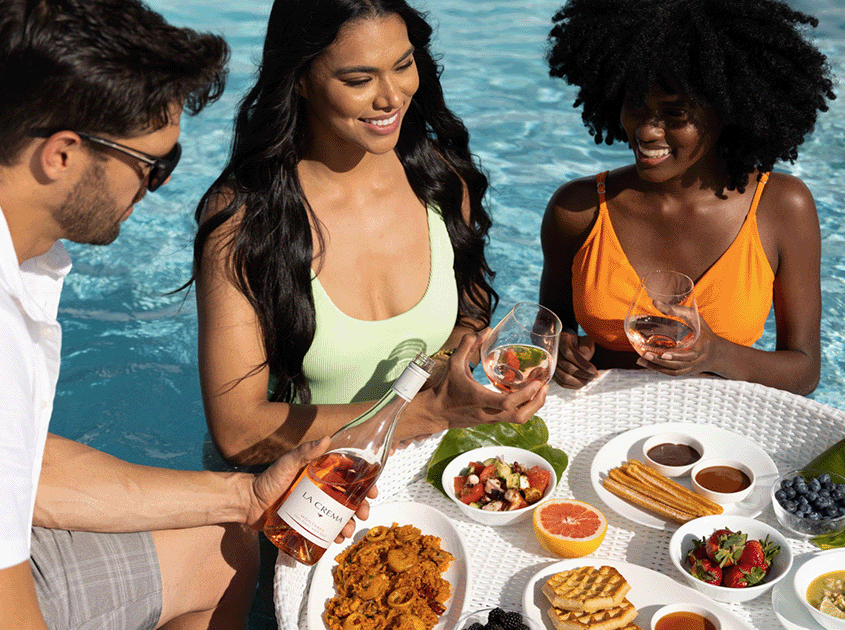 Sparkling wine is obviously a must for any good brunch, but remember, this isn't your average Sunday morning brunch— you're throwing a pool party brunch! Think beyond the standard mimosa bar. Make your event feel more like an afternoon getaway with a selection of wines that will satisfy every palate.
Sparkling Wine
Bubbles are not only expected at brunch, but they are a necessity. Choose bubbles that make an impression all on their own without the addition of sugar-filled juice. These sparkling wines offer delicate bubbles that are refined and make elegant poolside sips.
Sauvignon Blanc
This high-acid wine is crisp and refreshing. Its citrusy notes will pair well with your Spanish-inspired menu and help keep people cool.
Rosé
This fruit-forward Rosé is dry yet light making it a great warm-weather crowd-pleaser.
Chardonnay
For those who prefer a little more texture, this Chardonnay is lush and a little weightier compared to other white wines, but it still balances out its fruit flavors with its vanilla notes. Remember to serve this one only slightly chilled.
Pinot Noir
Just because it's summer doesn't mean you can't serve red wine. This Pinot Noir is jammy, light, and can be slightly chilled making it the ideal red for your pool party.
Other Important Details
Put Together A Playlist
So far you've taken care of four of the five senses to help make your guests feel as if they have been transported to a vacay getaway: they can see the outdoor aesthetic. They can taste and smell the aromas and flavors of your food and wine. And they can feel the cool water when they go for a dip in the pool. Now all that's left is for them to listen to a playlist you created to make this a truly immersive experience.
Whether you choose to make your brunch casual, sophisticated, or playful, design a playlist that will help set the tone. You can make it a playlist strictly for background music so people can focus on the conversation. Or you can make a playlist that will get people up and dancing. Whatever you choose, just make sure it helps enhance the overall vibe you're looking for.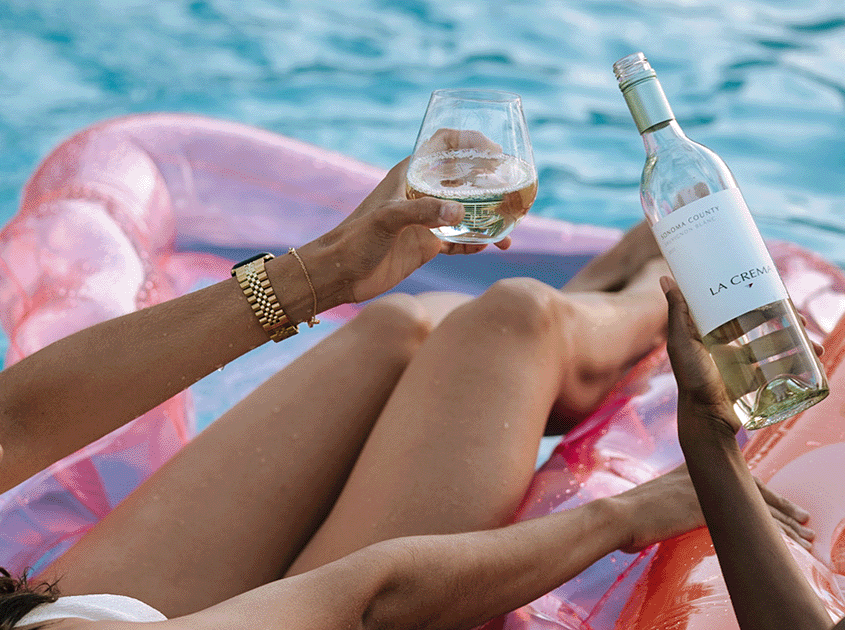 Stay Hydrated!
When there is sun, there is always the possibility of dehydration. Create a water station with pitchers or have water bottles available for people to sip throughout the day. It's even better if you have electrolyte drinks or packs available for guests.
It's also easy and a good idea to provide nonalcohol drink options.  Iced tea, lemonade, or even a virgin sangria can add to that party vibe and aid in hydration.
Provide Towels & Sunscreen
Inevitably people will forget to pack their sunscreen and towels. Take a few spare towels of your own, roll them up, and place them on display near the pool where everyone can see them. You can also place a couple of extra bottles of sunscreen next to the towels for convenience. If you don't want the lotion to overheat in the sun, you can also place the SPF in the cooler or ice bucket.
Have Fun!
At the end of the day, you're hosting a poolside brunch. It's meant to be a little cheeky and a whole lot of fun. So, take it as an opportunity to get creative and enjoy your friends and family!
Time to Start Planning
By following these tips, you can host a fun and memorable brunch by the pool complete with delicious food and amazing wines. But why wait until the party to start sipping La Crema wines? We think the best way to start planning any noteworthy event is by first opening your favorite bottle of La Crema and sipping while you plan, design, and organize!
We hope you're ready to sip and splash your way to a great time because this brunch may turn into a highly-anticipated annual event for you and all your guests. Make sure to tag us @lacremawine and share your favorite brunch pool party tips and pics with us on social media! And sign up for our mailing list to receive more party planning ideas straight to your inbox.