Crostini 7 Ways
When entertaining guests I love creating an appetizer that's as easy to make as it is delicious and these two-bite crostinis are just that. Plus with seven different options they're sure to please even the pickiest eater and are the perfect accompaniment to a glass (or two) of La Crema.
Crostini 7 Ways
Ingredients
1-2 loaves of french bread
olive oil
Goat Cheese
Ricotta
Herb Cream Cheese
1-2 peaches
1 jalepeno
Figs
Blackberries
Prosciutto
Smoked Salmon
Radishes
Chives
Asparagus
Capers
Chopped pistachios
Honey
Balsamic Vinegar
Lime for garnish
Instructions
Preheat oven to 350 degrees
Cut french bread into 1-2 inch thick slices, brush olive oil on each side and place on a cookie sheet. Bake 5-8 minutes, broil 2-4 minutes or until golden brown. Let cool completely.
Build crostini using the following combinations…
Goat cheese, peach slices, jalepeno slices
Goat cheese, fig, balsamic drizzle
Ricotta, blackberry, honey drizzle, lime garnish
Ricotta, prosciutto, chopped pistachios, honey drizzle
Herb cream cheese, smoked salmon, capers
Herb cream cheese, radishes, chives
Herb cream cheese, asparagus, chopped radish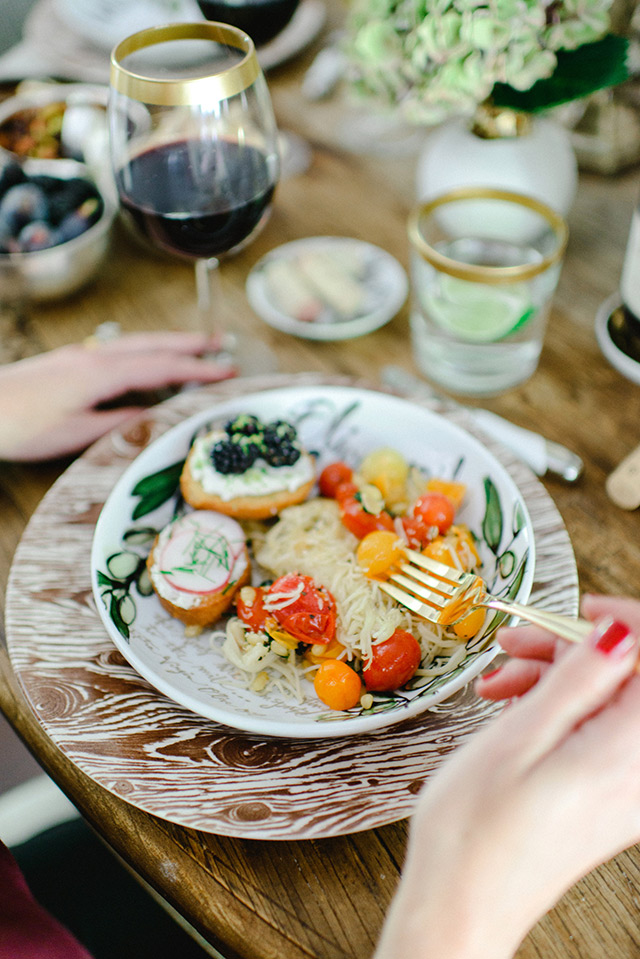 Stay tuned for details on how to pair these delicious crostinis with a light, farm-fresh roasted tomato cappelini.
Finally, I will be traveling to the La Crema Winery next week to fulfill a life-long dream by working during their harvest as part of the Virtual Vintner crowdsourcing program. While Virtual Vintners get to set the course for a whole-new La Crema wine, I'll be learning about the process of turning grapes into one of my favorite beverages! Stay tuned for a boots-on-the-ground digital diary of my experiences at an actual working winery!