Feast of the Seven Fishes: Parmesan Baked Scallops
Rich, delicate scallops and a few simple, complimentary ingredients are all it takes to create this show-stopping seafood appetizer. 
We're inching closer and closer to Christmas Eve, the night when Italian families all over the world traditionally celebrate the Feast of the Seven Fishes. However, you don't have to be Italian or even celebrate Christmas to indulge in the delicious recipes we're sharing with you for a very special cocktail party menu! Ready for the next mouth-watering recipe from Nicole Chapman of Simply Catering? I thought so! Pop open a bottle of La Crema Pinot Gris (my personal favorite with seafood) and let's get started!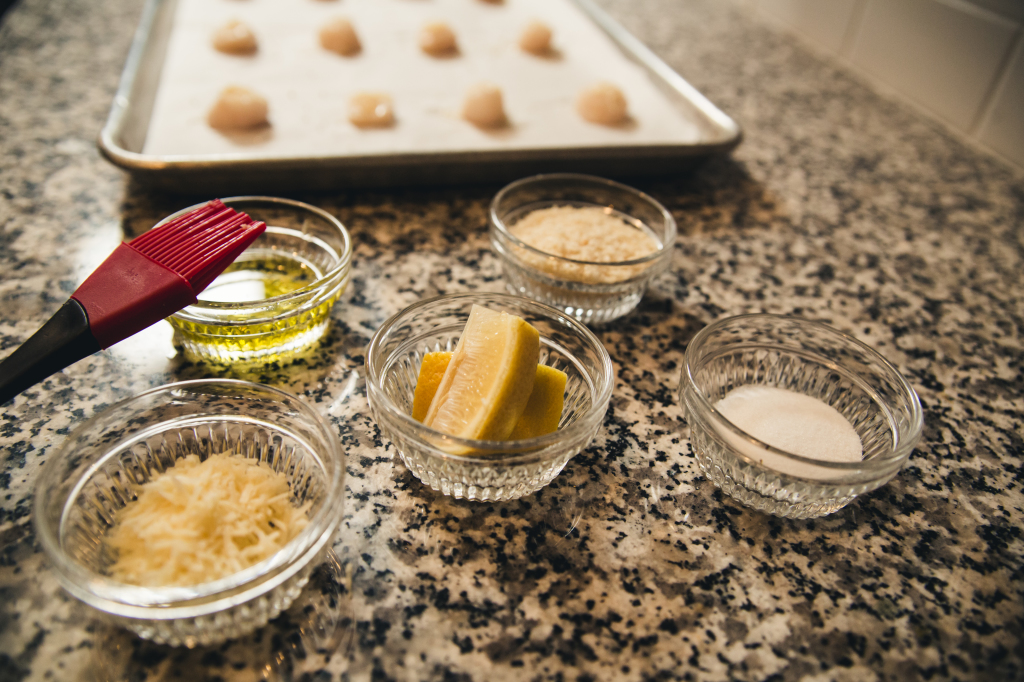 The hallmark of authentic Italian cooking to me, especially when it comes to seafood, is using the best, freshest ingredients. That especially rings true when it's a recipe with only a few ingredients involved like this one.
When my husband and I were honeymooning in Italy my favorite thing to do was go to the open-air markets and see all of the artisans with their offerings. Everyone specialized in something—and that was THEIR thing.
There was a gentleman with racks and racks of different types of garlic. A fisherman with the most amazing looking catches from that morning. An older woman with delicious loaves of crusty bread. An artisan with freshly made wheels of cheese. We don't have these amazing markets here in America, but check out your local farmers markets and specialty grocers for the quality ingredients that will make all the difference.
Seven Fishes Recipe: Parmesan Baked Scallops
Author: Nicole Chapman of Simply Catering
Recipe type: Appetizer
Cuisine: Seafood
Prep time:
Cook time:
Total time:
Serves: 12
Ingredients
¾ cup dry white wine
1 bay leaf
1 onion, finely chopped
2 tbsp butter
1 ½ tbsp all-purpose flour
¾ cup milk
salty and freshly ground black pepper
¼ cup finely diced fontina cheese
12 scallops on the ½ shell
2 tbsp dry breadcrumbs
½ cup grated parmesan cheese
Instructions
Place the wine, bay leaf, and onion in a small pan and bring to boil, then reduce the heat and simmer until the liquid has reduced by three quarters.
Strain the liquid and set aside.
Melt the butter in a small pan and add the flour, cook for 1 minute, stirring continuously, then remove from the heat and stir in milk and wine reduction, stirring until smooth.
Return the pan to the heat and continue stirring until the mixture thickens. Season with salt and black pepper, then add the fontina.
Preheat the broiler.
Spoon this mixture over the scallops and sprinkle with breadcrumbs and Parmesan.
Cook under the broiler until crisp and golden brown and serve immediately.
More recipes from this series:
Feast of the Seven Fishes Menu
The best way to serve buttery, sweet scallops is with a delicious white wine that isn't too sweet. That's why I mentioned La Crema Pinot Gris—it pairs with these scallops in a really lovely way. I'll be back soon with another recipe for your Feast of the Seven Fishes. If you miss me until then you can visit over at Camp Makery!
Get more culinary inspiration on Pinterest