Chardonnay Food Pairings Guide: Rules and Recipes

For a Chardonnay lover, it's a buzz-kill when your favorite white gets destroyed by the food it's served with. One minute you're loving the wine's sweet fruit and round, harmonious flavors, and the next it tastes like bitter, alcoholic lemon water. Some white varieties are flexible at the table, and pair well with a wide variety of cuisines.
But Chardonnay's subtle nature is easily overwhelmed by pungent foods. Pour it alongside the flavor equivalent of a noisy action flick, and it's totally lost. What you want are quiet flavors—mild, subtle foods that are not too spicy, not too pungent and not too acidic. Bonus: pairing Chardonnay with foods that complement its rich, mild flavors makes the meal taste better, too. So here is our advice on how to create the best chardonnay food pairings that will make every bite worth it.
Do's and Don'ts of Chardonnay Pairing |  Chardonnay Pairing Recipes  |
 Food & Wine Matching Chart  | Infographic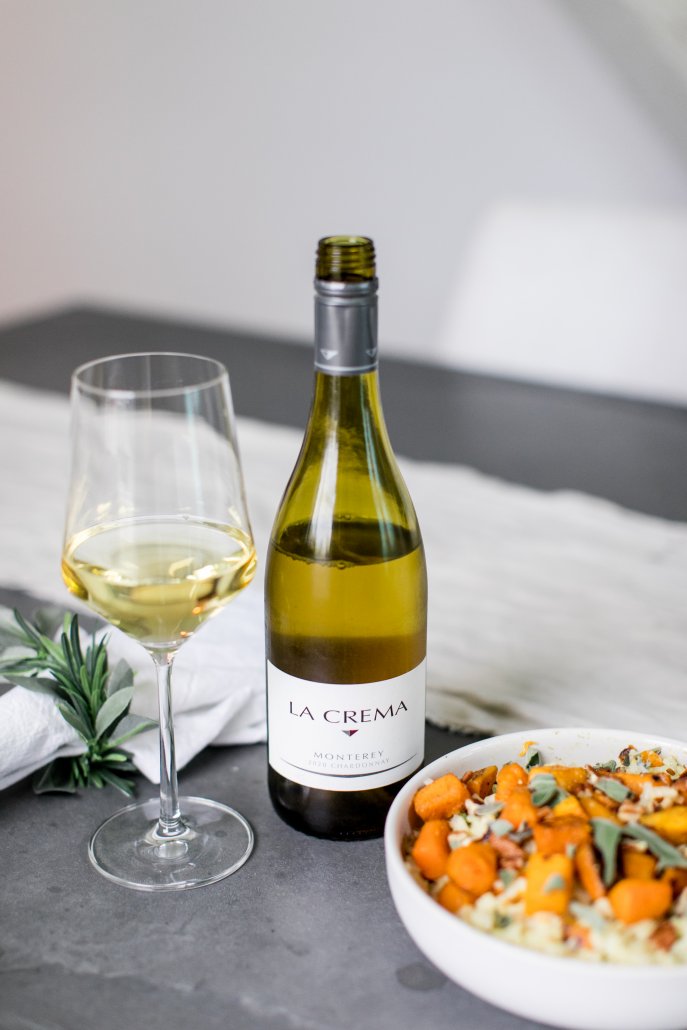 ---
Chardonnay Food Pairings
Dos and Don'ts
DO
– Serve Chardonnay with mild, buttery or creamy dishes.
– Pair Chardonnay with meaty fish (halibut, cod) and shellfish (lobster, shrimp, crab, scallops.)
– Pair Chardonnay with subtly flavored, simply seasoned poultry and pork dishes.
– Do complement oaky Chardonnay with foods that have toasty flavors, as from toasted nuts, pastry crust, – grilling or smoking.
– Pair crisp, delicate Chardonnay with simply flavored, simply prepared foods, such as baked fish or poultry with butter and herbs.
– Play to ripe Chardonnay's impression of sweetness with ingredients such as corn, butternut squash, sweet potatoes and foods that are caramelized from roasting or grilling, like crisp-skinned roast chicken.
– Pair Chardonnay with dishes that have a silky texture, such as risottos and cream-enhanced soups, sauces and pastas
DON'T
– Pair Chardonnay with aggressively seasoned food. Avoid fresh or dried chilies and super spicy dishes, such as a lot of Indian, Chinese and Southeast Asian fare.
– Pair Chardonnay with bitter foods. Bitter greens and vegetables and spices like turmeric will make the wine taste sour.
– Pair Chardonnay with acidic foods, such as raw tomatoes, olives, capers, ceviche and tangy vinaigrettes and sauces.
– Pair Chardonnay with pungent or high-acid cheeses. Avoid funky, washed-rind cheeses (taleggio, Époisse) and aged goat and sheep's cheese.
– Serve Chardonnay too cold, which dulls its pairing powers. Remove it from the ice bucket or refrigerator 15 to 20 minutes before pouring, and let it warm up to about 48 degrees.
---
Chardonnay Food Pairings Recipes
Looking for inspiration on foods to pair with Chardonnay? Here's a collection of our "greatest hits" to inspire your next dinner. These recipes have been created and tested to pair perfectly with our favorite white varietal.
Snacks, Salads and Appetizers
Greek Sweet Potato Fries
Roasting sweet potatoes concentrates their sweetness and caramelizes their natural sugars, making these a fantastic match for a toasty, ripe Chardonnay. This pairing is a terrific way to kick off to a fall or winter dinner. Serve the fries as finger food, with lots of napkins.
Wine match: La Crema Russian River Chardonnay
Winter White Salad
A creamy dressing, enriched with buttermilk and yogurt, gives this hearty salad the richness needed to stand up to Chardonnay. Apples and grapes make it fruity; cauliflower adds substance and pine nuts echo the wine's toasty notes.
Wine match: La Crema Monterey Chardonnay
Grilled Pumpkin Salad
Light, very dry whites would taste bitter with this sweet, smoky salad, but smoky Chardonnay makes a perfect partner.
Wine match: La Crema Monterey Chardonnay
Main Dishes
Southern Shrimp and Grits
Corn in almost any form is a natural match for Chardonnay's inherent sweetness. Here, stone-ground grits give this dish a creamy texture that harmonizes with the wine's silkiness. Mild, lemony shrimp make the perfect foil.
Wine match: La Crema Sonoma Coast Chardonnay
Yogurt-Marinated Apricot Chicken Skewers
There's just a touch of subtle spice in these chicken and apricot skewers. That calls for a crisp, fruity style of Chardonnay that can handle both spice and sweetness.
Wine match: La Crema Monterey Chardonnay
Dungeness Crab Mac and Cheese
This hearty, luxurious dish calls for a rich, elegant Chardonnay that won't get clobbered by its cheesy, buttery goodness.
Wine match: La Crema Sonoma Coast Chardonnay
Herbed-Crusted Cod with a Pea Puree
Peas are incredibly sweet, and when they're pureed they create a creamy, mild foil for fish or poultry that is divine with Chardonnay.
Wine match: La Crema Arroyo Seco Chardonnay
Honeycrisp Apple Pizza with Balsamic Onions
This pairing relies on a simple trick: Pick up Chardonnay's appley flavors by using apples in the dish. Because the dish has some sweetness, it definitely needs a ripe, fruity style of Chardonnay.
Wine match: La Crema Sonoma Coast Chardonnay
Mini Lobster Pot Pie
Adding corn kernels to this decadent pot pie makes it especially friendly to Chardonnay. A full-bodied, generously oaked version stands up beautifully to the dish's sweet lobster, buttery sauce and puff pastry crust.
Wine match: La Crema Russian River Chardonnay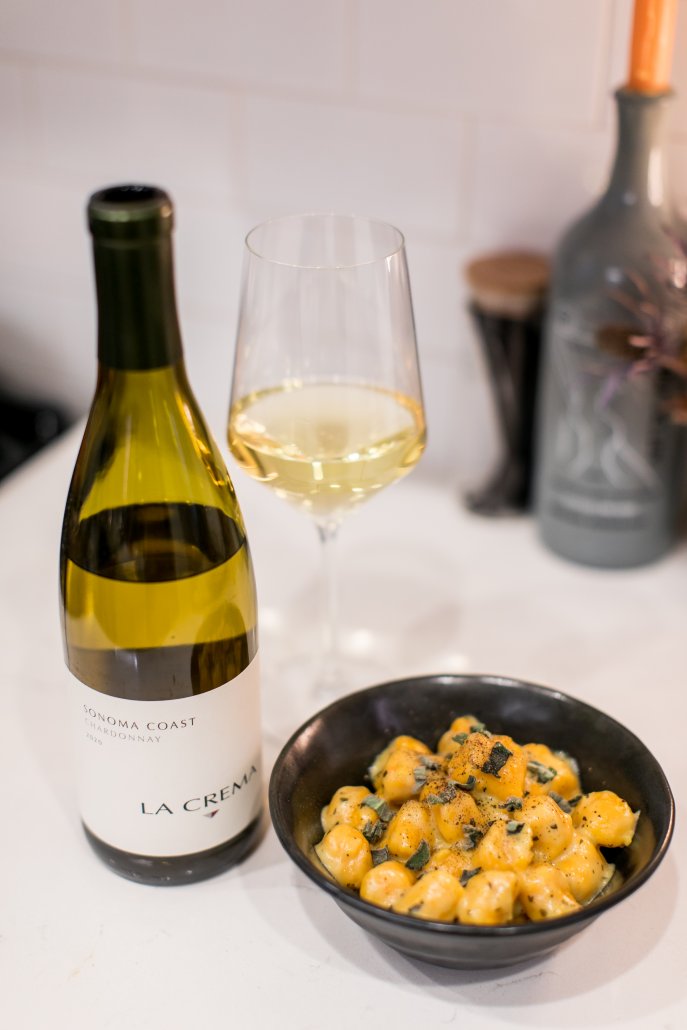 ---
Chardonnay Food Pairings
It's one thing to say that Chardonnay pairs well with chicken or fish, but that advice is so vague as to be nearly useless. How the food is prepared makes a crucial difference to the success of the pairing. What sort of seasonings and sauces are added? Is the food roasted, grilled, sautéed or poached? Every element of a dish can affect how it pairs with wine.
To take your Chardonnay food pairing to the next level, take a page from the sommelier playbook, and match the style of the wine you're drinking with the dish. First, think about the kinds of foods that Chardonnay pairs well with, and the kinds you want to avoid. (For help, take a look at our Chardonnay Dos and Don'ts.) Then, consider the flavors in the wine, as well as its weight (body) and acidity. Light, crisp Chardonnays that don't have a lot of oaky flavors (think toast, smoke, vanilla) taste best with lighter preparations; oaky, rich Chardonnays taste best with richer foods that echo the wine's sweeter, toasty flavors.
For example, poached chicken with lemon and tarragon sauce pairs best with a light, citrusy Chardonnay; roasted chicken in an intense wine sauce calls for wine made in a richer, toastier style. Here are some go-to pairings for Chardonnays at either end of the style spectrum.
Food
Chardonnay Style:
Crisp/Bright/Juicy
Chardonnay Style:
Ripe/Fruity/Rich
Appetizers

Grilled Shrimp with Apricot Glaze

Cheeses

Brie
Ricotta
Brillat-Savarin
Fontina

Vegetables & Legumes

Green Peas
White Beans
Zucchini
Edamame

Butternut
Squash
Carrots
Yams/Sweet Potatoes
Corn
Pumpkin

Fungi
Truffles and Mushrooms
Fruits
Pizza

White Pizza with Chicken, Mushrooms and Mozzarella
Mushroom & Brie Pizza

Caramelized Onion, Apple and Brie Pizza
Brie & Pear Pizza Four Cheese White Pizza

Pasta / Polenta / Risotto

Lemony Shrimp Risotto
Wild Mushroom & Herb Pasta
Spring Vegetable Risotto
Fettuccine with Scallops & White Wine Sauce
Pasta Creamy Chicken Sauce
Polenta with Beurre Blanc and Scallops

Butternut Squash Risotto
Fettuccine Alfredo
Creamy Pasta Primavera
Fettuccine with Scallops & Cream Sauce
Gnocchi with Brown-Butter & Sage Sauce

Pork

Roast Pork with Wine or Lemon
Pork Chop with Gremolata

Roast Pork with Cream or Apples
Pork Chop with Cream and Calvados
White Sausage (Boudin Blanc)
Hazelnut-Crusted Pork Chops

Poultry

Poached Chicken with Lemon Butter Sauce
Baked Chicken Breasts with Tarragon
Baked Chicken Thighs with Herbs & Mushrooms

Roast Chicken with Herbs
Wine-Braised Chicken with Mashed Potatoes
Grilled Lemon-Garlic Turkey
Pecan-Crusted Chicken
Roast Turkey with Cornbread Stuffing
Chicken/Turkey Pot Pie

Salad
*Salad pairing tip: Use mild, creamy dressings; avoid tart vinaigrettes.

Chicken Salad with Grapes
Tarragon Lobster Salad
Poached Salmon Salad with Herby Crème Fraîche Dressing

Pecan-Crusted Chicken Salad with Apples and Brie
Warm Scallop Salad with Mango and Hazelnuts

Sauce

Cream Sauce
Mild Cheese Sauce

Seafood

Sole with Butter & Lemon
Almond-Crusted Trout Crab Cakes with Herbs
Lobster with Drawn Butter
Classic Crab Roll

Baked/Poached Salmon Cod
Halibut with Brown Butter
Lobster/Scallops with Butter & Cream
Seared Sea Bass on Potato Puree
Lobster Pot Pie

Soup

Vichyssoise
Creamy Vegetable Soup
Pureed White Bean Soup

Seafood Bisque
Corn Chowder
Butternut Squash Soup
---
Chardonnay pairing is a fun and delicious skill to learn and this infographic is a great way to get your tastebuds started. Share this with all of the Chardonnay lovers in your life:
Download this infographic.