12 Winter Recipes Roundup
Winter's frigid temperatures bring with them the desire to play in the snow, often followed by an even stronger need to rush back indoors to get warm. Yet it's not just a burning fire that's needed to beat back the cold. A delicious, hot meal hits the spot when the weather outside is frightful. As we're well into winter, there's no better time than now to do a winter recipes roundup.
But don't follow just any recipe. Taste, freshness, comfort level; these factors bring a winter recipe together in just the right way. Whether it's a hearty soup, crunchy salad with fresh winter veggies, or some spicy meat with a good kick, you're going to need something that makes coming in from the cold all the better. And if you follow your meal with the right wine, you may soon forget that it's even winter in the first place.
Here at La Crema, we have recipes that are absolute perfection when enjoyed during cold winter months. Whether you need ideas on hearty recipes to keep you warm during winter months or just want insights on seasonal veggies, our winter recipes roundup should help keep your palate happy until spring arrives.
#1 Après Ski Beef and Noodle Stew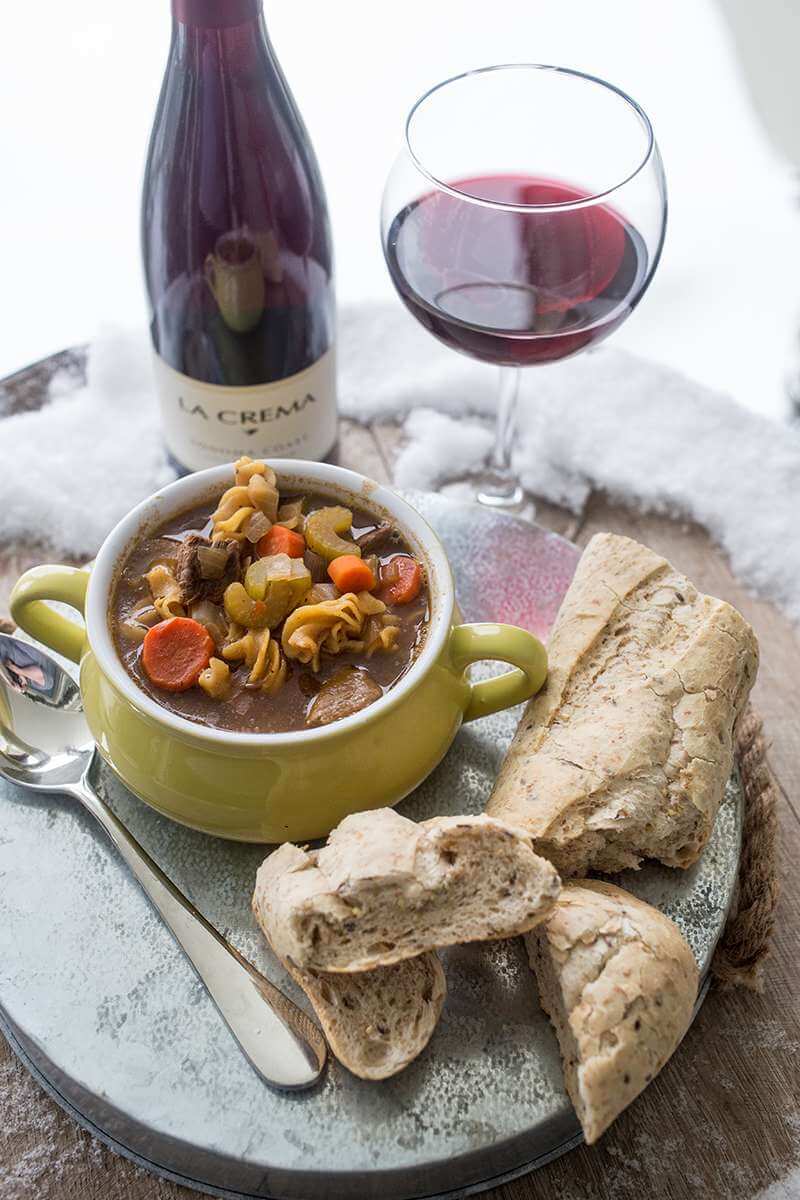 Warm and meaty, this Après Ski Beef and Noodle Stew recipe is exactly what you need to make all the snowmen outdoors jealous. One of the best things about this vegetable-packed beef stew is how easy it is to make. You can even pour the ingredients into a slow-cooker, giving you the chance to play in the snow for just a bit longer before coming back indoors. Pair this healthy beef stew with a Sonoma Coast Pinot Noir to really bring out the intense flavors of the beef.
#2 Winter White Salad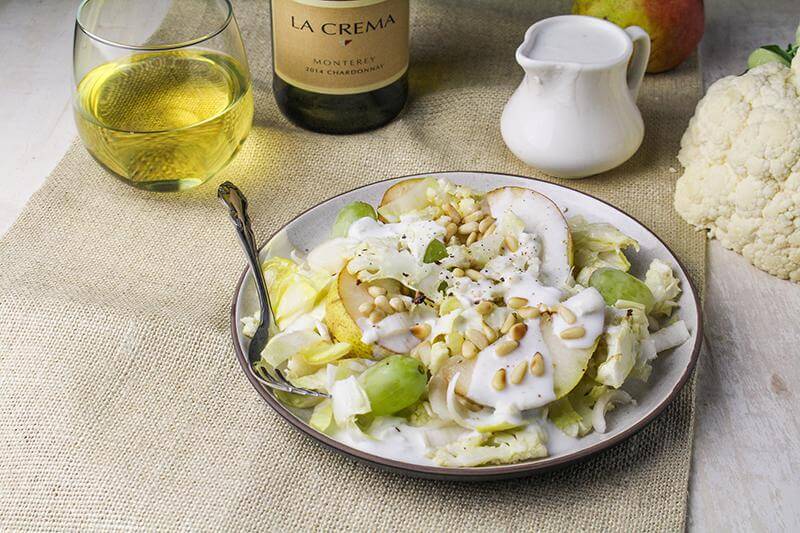 We know, you don't normally think of salad as something to help warm you up. Don't let that fool you! The Winter White Salad features delicious Belgian endives, cauliflower, and a touch of sweet grapes, pear and protein-rich pine nuts. The crisp freshness of this salad features seasonal ingredients and nicely breaks up some of the heavier dishes we reach for in winter months. Pairing this with a citrusy Monterey Chardonnay, you'll be happy it's still winter.
#3 Classic Coq Au Vin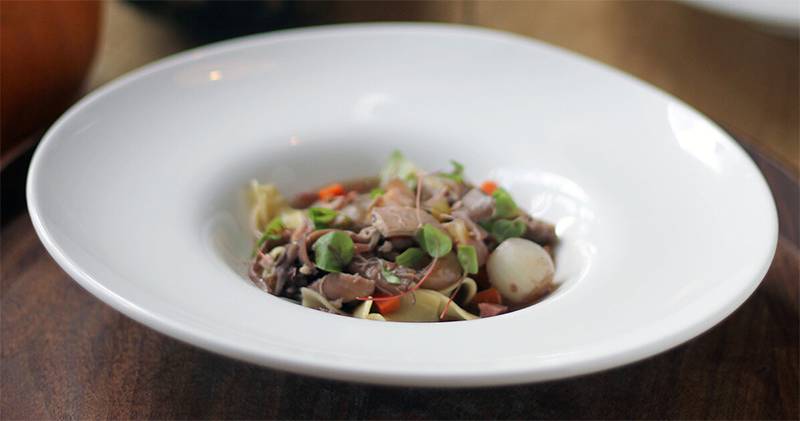 A classic French peasant dish roughly translated to "rooster with wine," you'll find yourself coming back to this wholesome Coq Au Vin again and again. Packed with veggies and loaded up with spices, everything comes together in this dish to create a taste sensation that might have guests spending more time at your house than their own. Make sure to use an Anderson Valley Pinot Noir in the recipe for the best flavor profile.
#4 Homemade Albondigas Soup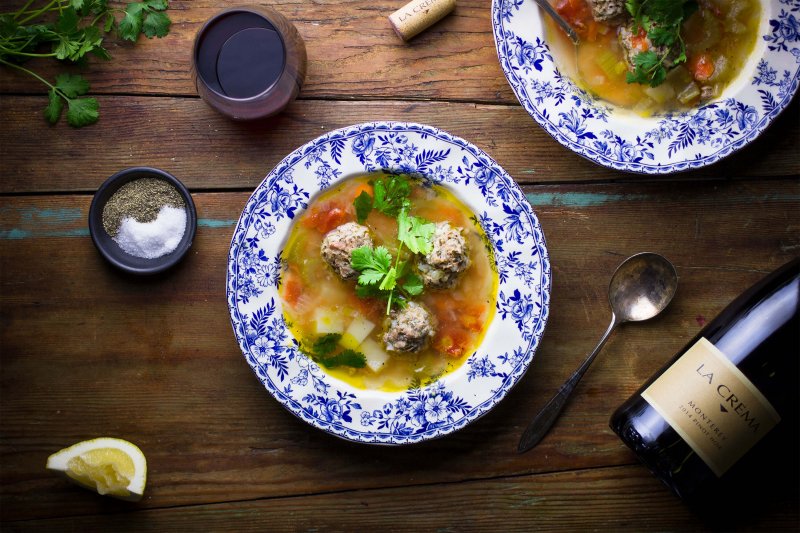 Mexican cuisine always has a comforting flavor profile and this  Albondigas soup (or "meatball soup") is one of our favorite winter recipes, and one that will warm you to the bones. With a chicken stock base, classic spices, celery, tomatoes, and potatoes, the true distinguishing feature is the spicy beef meatballs. Enjoy with a Monterey Pinot Noir and you'll find that even Jack Frost himself will be knocking your door down for a bowl of albondigas soup.
#5 Spicy Lemongrass Chicken Stock and Winter Veggies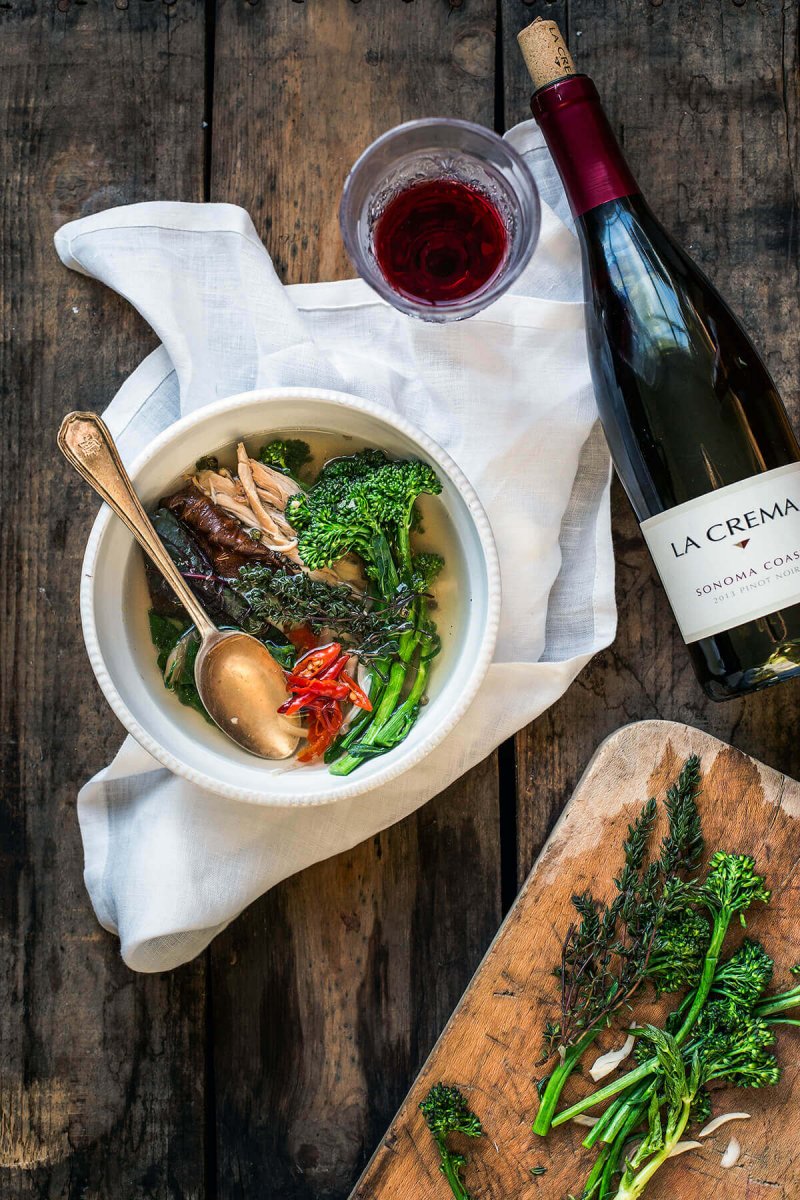 Winter is one of the best times to bring the heat, something a Spicy Lemongrass Chicken Stock and Winter Veggies soup will provide. This winter recipe serves double duty: First as a solid, tasty stock and then something you can just toss a host of winter veggies into for a healthy, belly-warming meal. You can choose any winter veggies you want, but we suggest tossing in generous portions of kale, broccolini, and chard. The notes of cocoa and plum in a Sonoma Coast Pinot Noir really bring this soup to a pleasant finish.
#6 All-Red Winter Detox Salad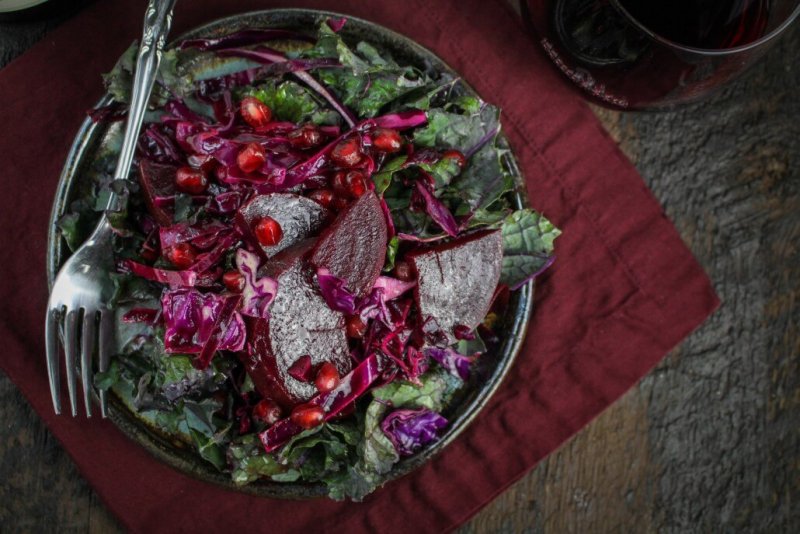 Considering how much time you'll be spending indoors during the winter, the All-Red Winter Detox Salad will help make you feel better about avoiding the chilly winter air for a while. This sweet salad features some of the greatest in winter veggies and fruits: beets, pomegranate, cabbage and kale. Add a touch of balsamic vinaigrette and pair it all with an aromatic Sonoma Coast Pinot Noir to make it a winning dish worth repeating.
#7 Tapas Party: Spice Up the Last Weeks of Winter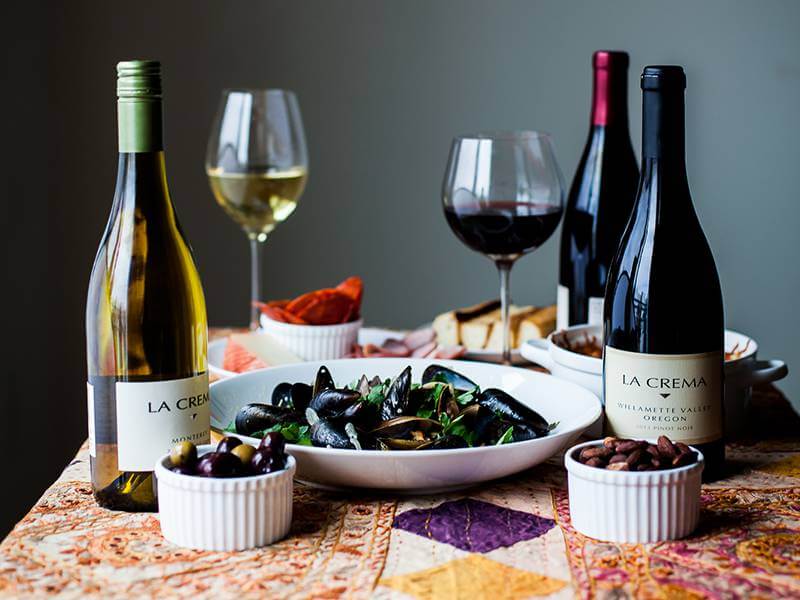 If winter is making you pine away for the Mediterranean, a tapas party may be just the ticket. Add a creamy goat cheese artichoke dip as your centerpiece alongside a heaping, steaming plate of garlicky mussels in a white wine butter sauce. And don't forget the olives, Mediterranean cheeses, and toasted breads. Given the wide range of flavors, you'll find a few great wine pairings with your tapas, such as Willamette Pinot Noir, Monterey Pinot Gris, or a Sonoma Coast Pinot Noir.
#8 Flatbread with Sage and Arugula Pesto Figs and Prosciutto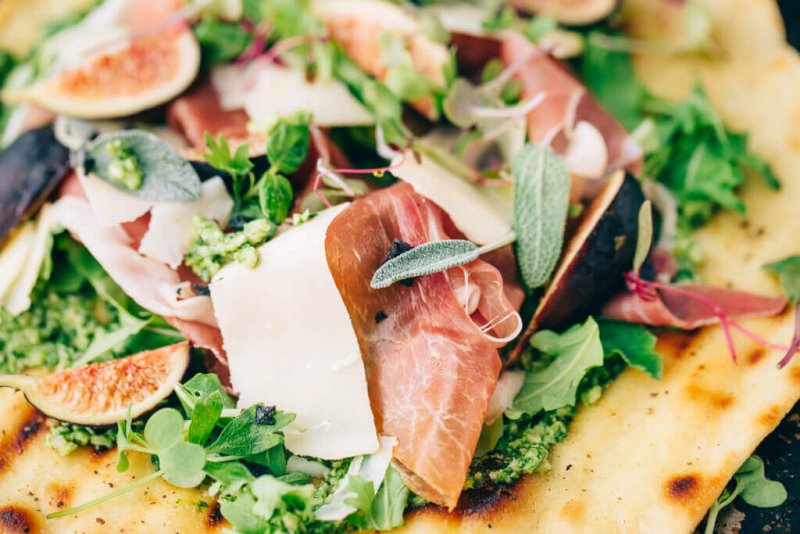 You'll find this winter recipe for Flatbread with Sage and Arugula Pesto Figs and Prosciutto a must-have for the cold winter months. The flavors merge together well for a salty, sweet and not to mention, healthy, experience. With its soft tannins and notes of dark plum and red currant, you'll find a Willamette Valley Pinot Noir fits like a glove with this delectable dish.
#9 Dungeness Crab Mac & Cheese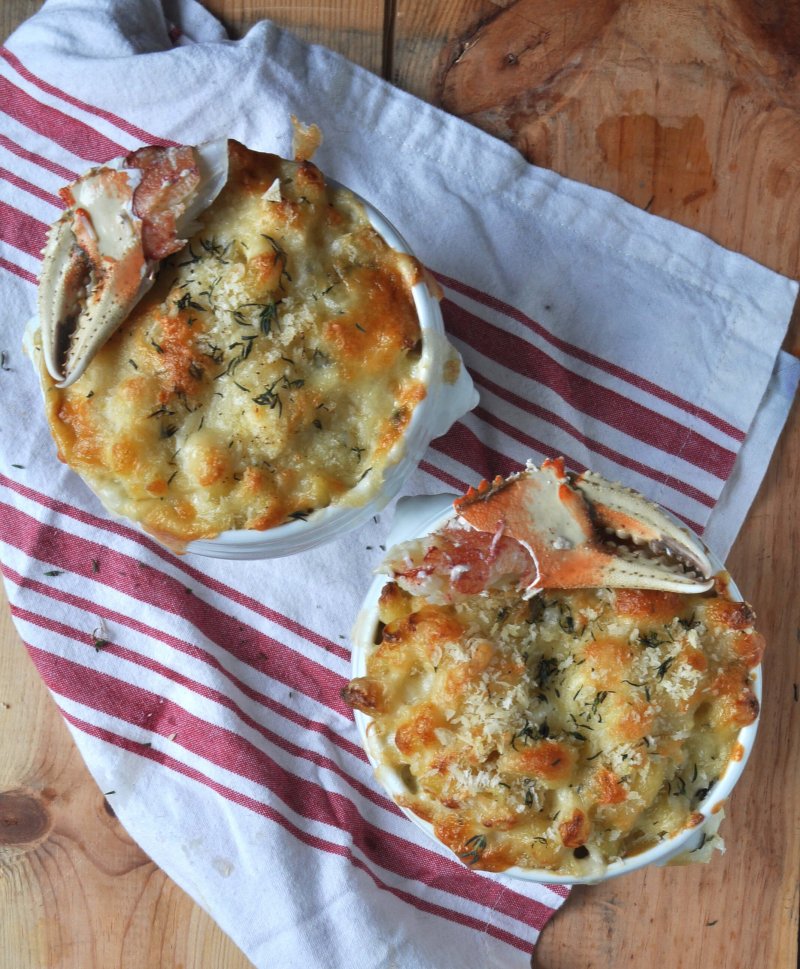 Admittedly, mac and cheese is probably an all-weather comfort food. But its warm, gooey goodness really brings it home during winter when you combine it with seafood. That's why Dungeness Crab Mac & Cheese is the winter delight you deserve.  If for some reason crab just isn't available (freshness is key here, and it is winter after all), don't worry; you can always replace the crab with prosciutto or a few thick slabs of bacon. Pair with the sweet, spicy tones on a Sonoma Coast Chardonnay and you'll may never go back to having ordinary mac and cheese again.
#10 White Wine Poached Shrimp, Citrus, and Fennel Salad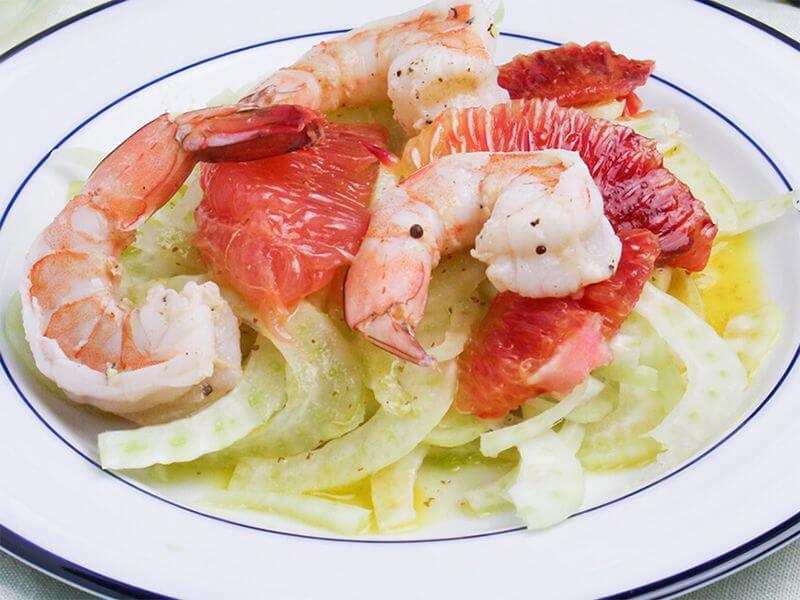 It's hard to find something that wine doesn't go with, and that includes this fruity, almost decadent White Wine Poached Shrimp, Citrus, and Fennel Salad. Shrimp is a comfort food for all seasons, but can help drum up feelings of summer by the beach. Adding in the pleasant taste of citrus and fennel turns this into a colorfully-flavored dish ready to fight back the biting cold of winter. Unsurprisingly, a brisk white wine goes best with this dish. We suggest a Monterey Pinot Gris featuring solid notes of Asian pear, lemon and cantaloupe.
#11 Winter Panzanella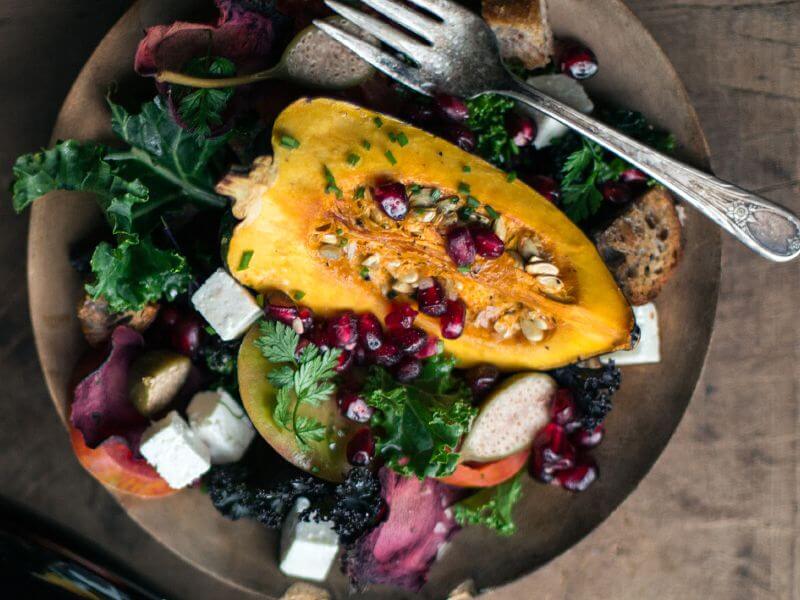 With an emphasis on winter veggies like kale and beets, the Winter Panzanella is just begging to be added to your list of winter delicacies. Yes, we know what you're thinking: "Isn't Panzanella a summer salad?" It is indeed. But you can turn the classic recipe on its head by substituting winter veggies, while still keeping the heart of the dish intact: the stale soaked bread, oil and vinegar, and hearty tomatoes. The winter variety of this popular summer salad cries out for a bit of sweet and spice, making the dark berry and black tea notes in the Sonoma Coast Pinot Noir a good partner to this dish.
#12 Winter Skillet Nachos with Cauliflower "Parm" (Dairy Free)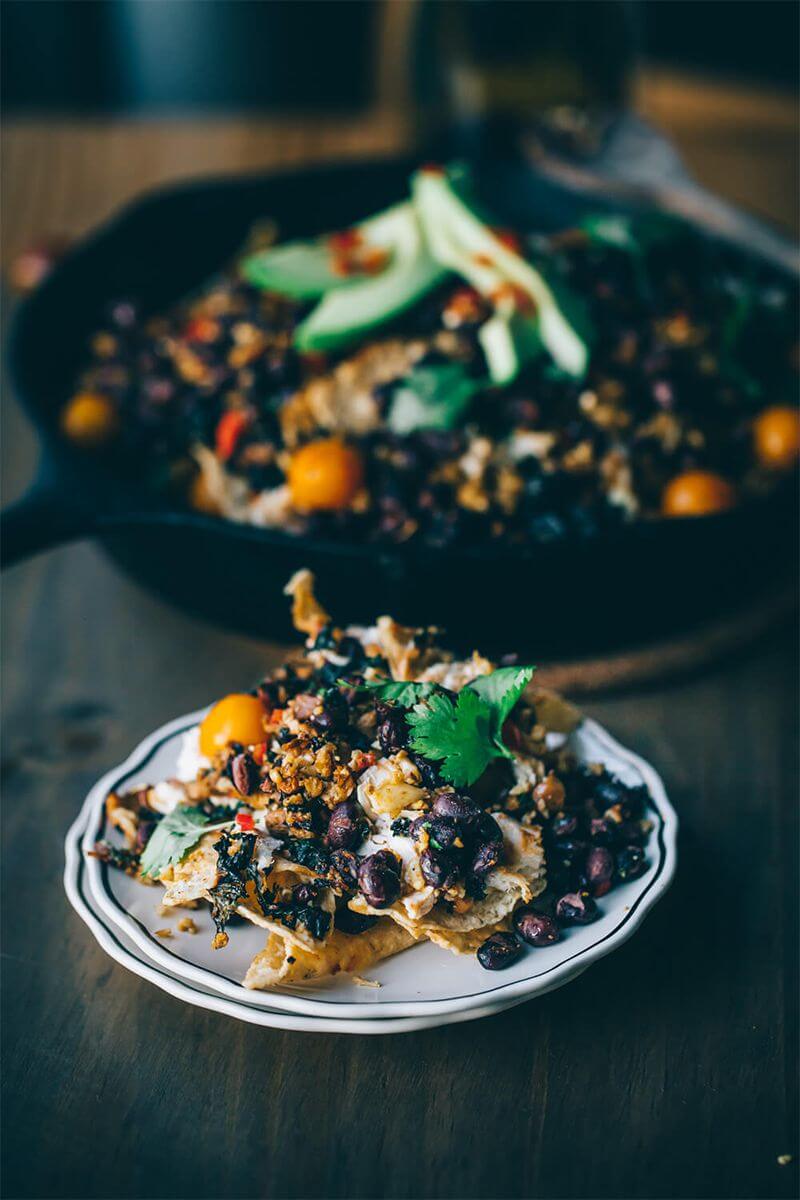 Nachos truly are an all-season venture, but you can feel a bit less guilty about downing them during the winter when you add in a healthy dose of Cauliflower. The Winter Skillet Nachos with Cauliflower "Parm" is not your typical bar-food nachos. The mixture of black beans, cauliflower, winter greens, shredded chicken and cherry tomatoes provide more of a taste experience than your standard nachos. The smooth tannins from a Willamette Valley Pinot Noir merge beautifully with this dish.
Share This on Pinterest!