Infographic: A Tour of West Coast Pinot Noir
Pinot Noir has a reputation as a "sensitive" grape. As the character Miles famously opines in the movie Sideways, it's "thin-skinned, temperamental [and] ripens early." Like all sensitive souls, the variety is strongly imprinted by its surroundings. Part of Pinot Noir's allure is that its flavors and aromas change dramatically depending on where it's grown. One bottle might be pale and light-bodied—a delicate wisp of a wine with fresh, tart flavors. The next will offer mouth-filling power and richness. In the best examples, notes of flowers, herbs, earth and spice inflect the wine's red fruit flavors and, by their presence or absence, give clues to its origins.
The regional differences among Pinot Noir offerings are so pronounced that experts can often identify a Pinot's origin without even tasting it. A glance at the wine's color and a good sniff of its aromas is sometimes enough.
As Pinot Noir specialists (or, perhaps, obsessives), our winemaking team uses grapes from top Pinot zones up and down the West Coast. Our lineup offers a taste of place where each reflects the unique characteristics of its home.
While there are other regions that grow Pinot Noir on the West Coast, we've highlighted key facts and tasting notes for the AVAs we source our wines from in this easy, digestible infographic. If you're looking for more information, head to the winegrowing regions page, and don't forget to shop our Pinots too!
Enjoy!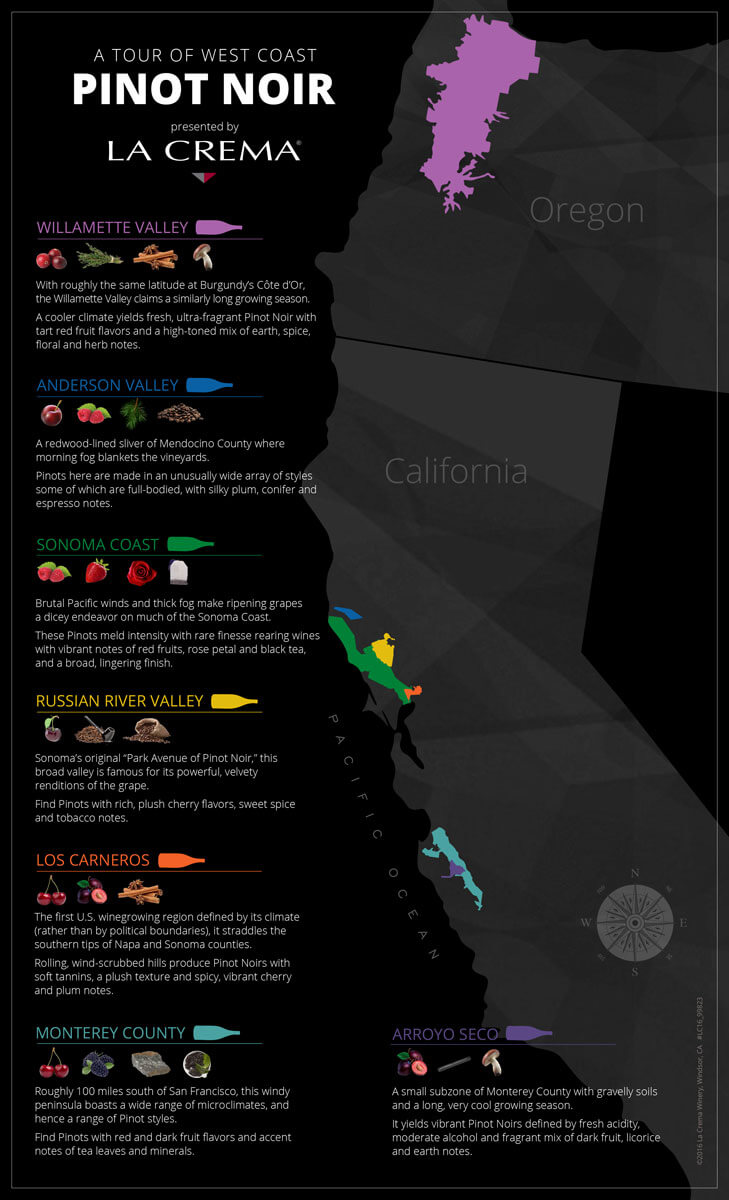 Save this infographic.